Grimgar, le monde des cendres et de fantaisie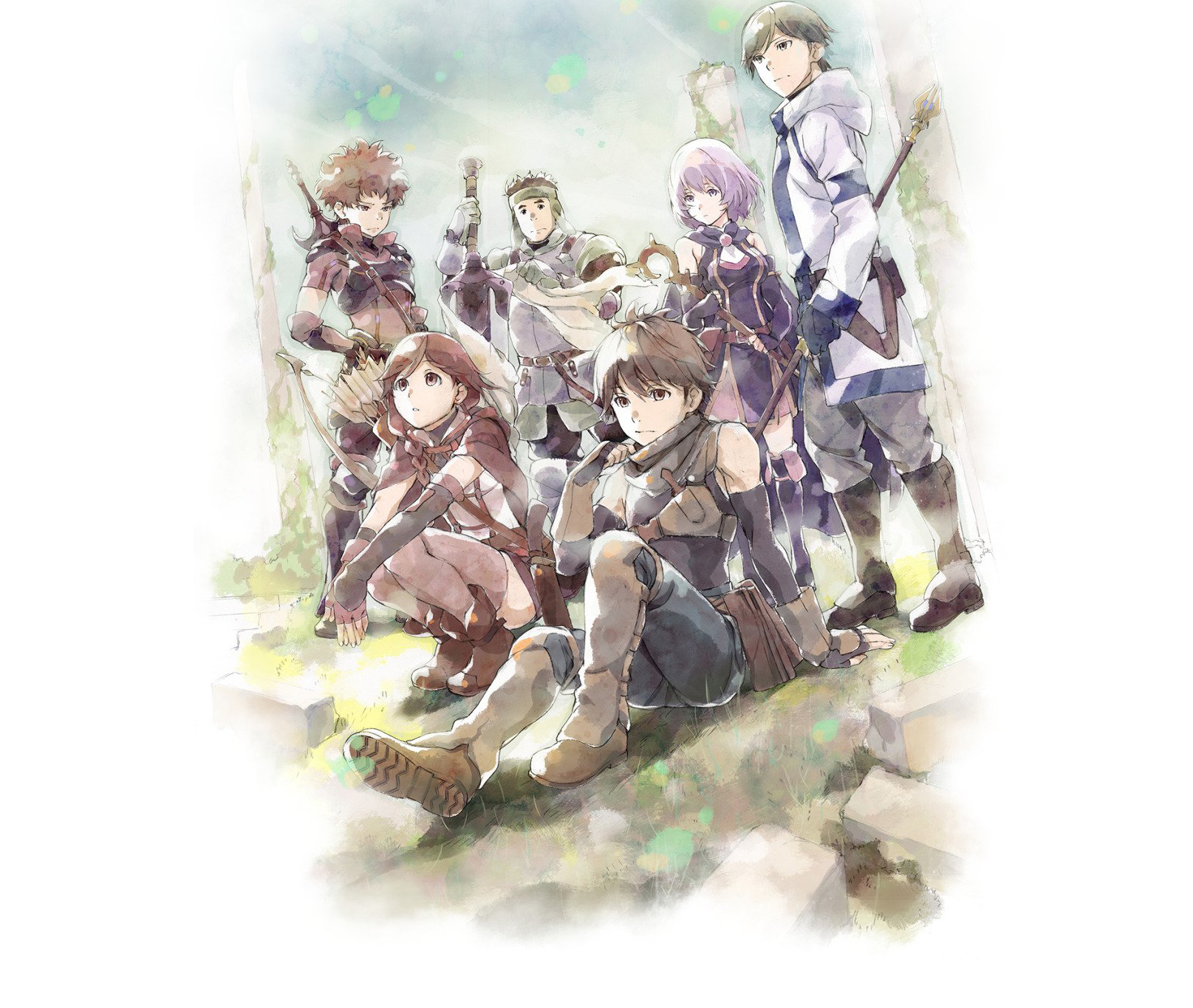 Article
Aujourd'hui on parle de l'anime Grimgar !
La petite histoire :
C'est à l'origine un Light Novel écrit par Ao Jûmonji depuis 2013 pour actuellement 14 volumes au Japon.
Il a d'abord été adapté en manga par Mutsumi Okubashi, entre 2015 et 2016 pour 3 tomes.
L'anime est sorti en 2016 et compte 12 épisodes et 1 OAV, le tout chez Wakanim, @Anime et Netflix.
Cet anime est aussi connu sous le nom Hai to Gensou no Grimgar.
Personnage :
Haruhiro est le personnage principal de cette histoire. De la classe voleur, c'est quelqu'un d'assez discret de nature. Plutôt doué de ses mains, il lui arrive souvent de combattre au front pour combler les manques. C'est quelqu'un d'agréable avec un esprit légèrement idéaliste. Il s'entend particulièrement bien avec Manato et Yume, alors qu'il a du mal à comprendre Ranta et sa façon de penser. C'est un personnage qui me fait un petit peu penser à Bell Cranel de DanMachi dans sa place au début de l'histoire.
Manato est de classe prêtre. Un peu plus vieux que ses compagnons, il prend naturellement la place de chef. Il a tendance à surprotéger ses compagnons en combattant au front et en les soignants à l'excès. C'est quelqu'un de très mature et gentil qui est la clé de voûte du groupe. Il s'entend bien avec tout le monde et parvient même à gérer Ranta.
Yume est de classe chasseuse. Adolescente toujours de bonne humeur, elle est capable de faire beaucoup de chose, du repérage au combat rapproché en passant par l'attaque à longue distance. Elle a le cœur bien accroché, ce qui lui permet de garder son sang froid en toute circonstance. C'est quelqu'un de joyeux qui aime quand les choses se passe dans la bonne humeur. Elle s'entend particulièrement bien avec Shihoru, la seule autre fille du groupe, et avec Haru, avec qui elle a une relation un petit peu ambiguë. C'est un personnage que j'apprécie énormément. Elle est un peu complexé par sa poitrine et se sent blessé quand Ranta la traite de planche à pain.
Ranta, de la classe chevalier noir, est la tête brulée du groupe. C'est quelqu'un de direct qui se fiche pas mal de la cohésion et du travail du groupe. Alors qu'il vente toujours sa force à qui veut encore l'entendre, c'est quelqu'un qui panique dès que la situation ne se passe pas comme prévu. Partant du principe qu'il n'a aucune morale en tant que chevalier noir, il se permet de reluquer les filles pendant leur bain ou de les taquiner sur leurs formes. C'est quelqu'un d'assez lourd qui pose beaucoup de problème à ses compagnons. Malgré tout, on finit par s'attacher à lui.
Shihoru est une mage timide et qui paraît souvent assez froide. Elle parle peu, surtout aux garçons qui l'intimident. Elle est très proche de Yume et du seul garçon à qui elle parle sans trop de problème : Manato. Elle est complexé par sa poitrine généreuse. Elle s'est spécialisé dans les sorts de défense.
Moguzo, de la classe guerrier, est le tank du groupe. Combattant manquant parfois d'esprit combatif, c'est un personnage discret. Il parle peu, mais joue souvent le rôle du grand frère. Malgré son apparence un peu bourru, c'est quelqu'un d'une grande sensibilité qui aime cuisiner et sculpter de petites figurines en bois. C'est un personnage très agréable.
Merry est de la classe prêtresse. De nature plutôt réservée, elle n'hésite pas à se montrer froide ou distante. Elle a un style de combat assez en retrait et préfère jouer l'économie. Elle a une aura particulièrement froide, notamment à cause d'une vieille blessure… C'est un personnage que j'aime beaucoup.
Scénario :
Douze adolescent se retrouvent sans raison apparente dans un monde de fantasy : Grimgar. Ils ne savent plus d'où ils viennent, mais doivent tout faire pour survivre dans ce nouveau monde. Pour cela, on leur explique qu'ils doivent s'engager dans l'armée des volontaires, se trouver une guilde et massacrer des monstres. Les récompenses leurs permettront ainsi de vivre… Le petit groupe se sépare en plusieurs troupes : d'un côté les forts et de l'autres les plus chétifs. C'est ainsi que née la troupe regroupant Manato, Haruhiro, Yume, Shihoru, Ranta et Moguzo. Alors que les autres aventuriers partent des baraquements très vites, eux luttent encore pour réussir à tuer leur premier gobelin… Mais leur réserve d'argent baisse dangereusement et ils risquent de ne plus parvenir à se nourrire… Manato parviendra-t-il à mener son groupe à la victoire ?
Une terrible épreuve s'impose brusquement à nos amis alors qu'ils commençaient à peine à s'en sortir… Réussiront-ils à passer outre et à continuer leur chemin ?
Nous sommes sur une mise en place standard d'Isekai Gaming. Tout de fois le développement nous donnes un point de vue particulièrement intéressant, digne d'un Log Horizon ou d'un Overlord. Alors que la grande majorité des isekai gaming s'obstinent à nous montrer des personnages surpuissants, nous explorons ici le cas inverse de héros qui peinent pour survivre. De nouvelles problématiques se posent, comme les ressources ou la cohésion de l'équipe. Le tout est présenté avec beaucoup de poésie et une ambiance posée et agréable. Une excellente surprise.
Graphisme :
Difficile de juger le niveau graphique de cette œuvre. J'avoue que j'étais un peu rebuté par le design général de l'anime, que l'on retrouve d'habitude beaucoup plus dans les shojo comme Ao Haru Ride, pour ne citer que celui-ci. Mais j'ai eu la surprise de voir que ça passait étonnement bien. Le design général est très proche de l'aquarelle et ceux tout du long de l'anime. Les trames de fonds sont très belles et atmosphériques, tandis que les Eyecatch bouleverse un peu le style de l'anime, mais avec toujours autant de bon goût. Le design des personnages est très bien pensé. Les combats sont réalistes et très bien réalisés. Le scènes plus slice of life sont agréables et reposantes. Le rythme est plus posé que la majorité des œuvres du genre.
Il y a assez peu d'OST, mais ils sont de genre varié, allant du rock à la pop. L'opening : Knew day de (K)NoW_NAME est une excellente vitrine pour l'anime.
Point noir :
Cet anime a une place difficile à prendre. D'un côté c'est un isekai gaming tout ce qu'il y a de plus vrai, avec classe et compétence. De l'autre, il se présente vraiment comme un slice of life. Ceux qui cherchent de l'isekai gaming à la mode SAO le trouveront long et ceux qui aiment le Slice of Life n'auront probablement pas l'idée d'aller le chercher dans ce type d'univers…
Je peux comprendre que le design en rebute certain…
Conclusion :
J'ai vraiment adoré Grimgar, le monde des cendres et de fantaisie. C'est un isekai gaming original et très agréable. Je le conseille fortement aux fans de slice of life et d'isekai gaming un peu moins classiques que la moyenne.