Gambling School
Article
On s'attarde aujourd'hui sur une série bien plus populaire qu'il n'y paraît : Gambling School !
La petite histoire :
C'est à l'origine un manga écrit par Homura Kawamoto depuis 2014 et qui compte à ce jour 10 tomes publiés chez Soleil Manga.
Plusieurs autres séries de manga sont sortis à partir de cette histoire :
Gambling School Twin de Kei Saiki depuis 2015 pour 7 tomes chez Soleil manga.
Kakegurui (kakkokari) de Taku Kawamura depuis 2016 pour 4 tomes non publiés en France.
Kakegurui Midari depuis 2017 pour 3 tomes, également non publiés en France.
L'anime dont nous parlons aujourd'hui est sorti de Juillet à Septembre 2017 pour un total de 12 épisodes, licencié et diffusé en France par Netflix.
Un drama de 10 épisodes est sorti en 2018, également licencié et diffusé par Netflix.
En Novembre 2018, la saga s'offre un jeu mobile sur IOS, uniquement disponible au Japon.
Depuis le 9 Janvier 2019, la seconde saison anime : Kakegurui xx, arrive notamment sur Netflix avec 12 épisodes annoncés. Cette saison ne semble pas encore licencié en France.
Une seconde saison du drama : Kakegurui, est prévu pour le 1er Avril 2019.
Enfin, un film LIVE est annoncé pour Mai 2019.
Personnage :
Jabami Yumeko est l'héroïne de cette histoire. Nouvelle au lycée Hyakkaô, elle semble douce et gentille. Elle cache pourtant en elle le démon du jeu, qui la transforme en une véritable succube du jeu. La seule chose qui semble lui apporter de la jouissance, c'est de parier. Plus elle parie gros, plus elle ressent du plaisir. C'est une fille d'ordinaire très sympathique qui compte sur ses énormes ressources pour jouer jusqu'au bout de l'extase. Elle perd toute notion de logique et de raison quand elle joue.
Suzuki Ryôta a beau être le héros de l'histoire, il n'a rien pour. En deuxième année, c'est un joueur de seconde zone qui n'a pas le cran nécessaire pour jouer jusqu'à son dernier centime. C'est quelqu'un bourré de bon sentiment et plutôt doué en cours, mais qui n'a aucun talent pour les paris. Il n'a pas une très grande utilité dans cette histoire.
Saotome Mary est une première année riche passionnée par le fait d'écraser les autres. Elle est également excitée par les paris de fortes envergures. J'hésite vraiment quand à la description de son caractère. Elle semble cacher en elle un côté très tsundere qui s'efface complètement quand elle joue. C'est une fille hautaine, mais plutôt réaliste quand au véritable visage des gens qui l'entourent.
Momobami Kirari est la présidente du conseil des élèves et accessoirement celle qui dirige le lycée. Elle cache derrière un fine couche de bienfaisance une personnalité calculatrice et manipulatrice qui cherche l'extase dans le jeu, notamment en affrontant les meilleurs des meilleurs. Elle a beaucoup de recule sur les évènements et n'agis que dans son propre intérêt. Elle aime le jeu au moins autant que Yumeko Jabami.
Yomozuki Runa est un personnage pour le moins étrange. Toujours de bonne humeur, c'est un membre du conseil des élèves qui possède l'apparence d'une petite fille. Etrangement, elle est toujours neutre et se tient particulièrement informée. Sous sa bonne humeur, elle cache une personnalité forte qui déteste qu'on lui tienne tête. Ce sera sans doute un personnage clé de la saison 2.
Voilà pour nos personnages ! Il y en a évidemment d'autres, mais je vous laisse la surprise. A par le héros, tous possèdent une seconde personnalité bien plus noirs qui s'exprime quand ils approchent de l'extase. C'est un aspect très intéressant.
Scénario :
L'académie privée Hyakkaô est un établissement rassemblant les plus puissants héritiers et autres richissimes personnages pour rebattre les cartes autour du jeu de hasard et des paris. En d'autre terme, c'est la loi du plus fort. Si on gagne, c'est le paradis, si on perd, c'est l'enfer.
Yumeko Jabami est transférée au cours de sa première année. C'est alors qu'elle fait la connaissance de Ryôta, un élève martyrisé par Mary Saotome, suite à sa défaite contre elle. Yumeko profite tout de suite de l'occasion et décide d'affronter celles-ci pour libérer Ryôta et approcher l'extase. Mais sa victoire attire l'attention du conseil, qui n'a pas l'intention de la laisser agir impunément… Yumeko Jabami réussira-t-elle à survivre à son démon du jeu ?
J'aime beaucoup ce scénario orienté sur le jeu et le plaisir qu'on peut prendre à parier. En plus de voir les choses sous un angle biscornu, on retrouve de réelles réflexions qui n'ont rien à envier aux œuvres orientées "stratégie". Le plus intéressant dans cet anime, c'est sans aucun doute qu'à la façon de Shokugeki no Soma (Food War), il présente le jeu sous une vision de plaisir sexuel intense. S'il ne possède pas de plan où l'extase emmène les personnages vers le nu, on y ressent toute la perversité derrière les paris et le plaisir malsain qu'on peut ressentir à parier tout ce qu'on a. Qu'on aime ou non les jeux en général, on accroche très vite à ce scénario riche en rebondissement, malgré le fait qu'il ne présente pas une évolution particulière des personnages, mais une quête vers l'extase ultime.
Graphisme :
Le niveau général de l'œuvre est très bon. Le design des personnages est bien pensé et le design général se distingue de beaucoup d'œuvres actuelles. Il n'hésite pas à reprendre des plans qu'on trouvait jusque là dans des ecchi à la Prison School. On ressent particulièrement bien l'ambiance feutré des salles de jeu, ainsi que l'excitation provoqué par le risque.
L'opening : Deal with the devil de Tia est original, quoi qu'il fasse quand même énormément penser à Maria Holic (2009) et Joker Game (2016). La chanson de l'Ending : LAYon-theLINE de TECHNOBOYS PULCRAFT GREEN-FUND est intéressante.
Point noir :
J'avoue qu'une histoire un peu plus marquée aurait put donner un peu plus de poids à cet anime.
Des OST plus originaux auraient mis plus d'amplitudes dans certaines scènes, ce qui aurait mis cet anime à une hauteur impressionnante.
Enfin, l'animation de l'Ending sent vraiment le fan service dans une œuvre qui se base sur le côté érotique des scènes et non des personnages. Difficile de passer à côté des seins de Yumeko Jabami quand l'anime se passe totalement de les évoquer directement.
Conclusion :
J'ai beaucoup apprécié Gambling School. C'est un anime qui nous plonge tout de suite dans l'extase du jeu et qui nous tient du début à la fin. Je conseille cette œuvre à ceux qui aiment les oeuvres subjectives à la Prison School.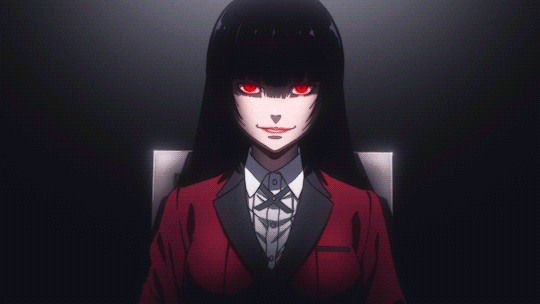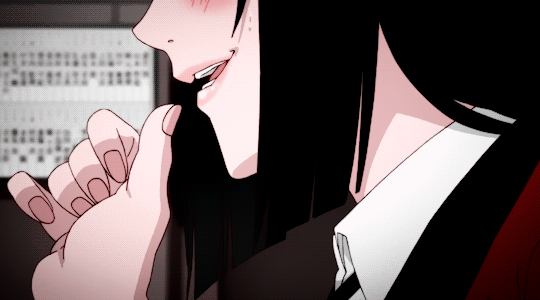 Date de dernière mise à jour : 16/02/2019