Kids on the Slope
Kids on the Slope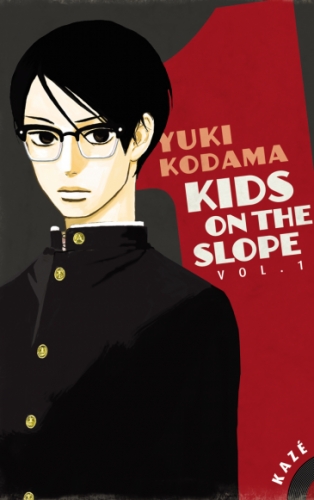 Article tome 1
Aujourd'hui on s'attaque à l'excellent Kids on the Slope !
La petite histoire :
C'est un manga écrit par Yuki Kodama entre 2007 et 2012 pour un total de 9 tomes chez Kaze.
L'adaptation anime est sortie en 2012 pour 12 épisodes chez Dybex.
Il a été adapté en film LIVE en 2018.
Le titre original de la série est Sakamichi no Apollon.
Personnage :
Nishimi Kaoru est le protagoniste de cette histoire. De nature plutôt solitaire et timide maladif, c'est quelqu'un d'introvertie qui a du mal à se lier d'amitié avec les autres et se sent très vite oppressé. Pianiste depuis qu'il est enfant, il joue essentiellement du classique. Il en pince pour la jolie Ritsuko et est mi-intrigué, mi-apeuré, mi-admiratif de Sentarô.
Kawabuchi Sentarô est un jeune lycéen robuste et qui n'en fait qu'à sa tête. Il sèche les cours, force ses camarades à lui donner les réponses aux examens et se bat avec le premier venu à la première occasion. Toutefois, il semble avoir un côté très sentimental, possède un amour inconditionnel pour le jazz et n'hésite pas à donner de sa personne pour aider les gens dans le besoin.
Ritsuko Mukae est une amie d'enfance de Sentarô et la déléguée de classe. D'un caractère assez fort, elle a appris à s'imposer face à Sentarô et le gronde souvent. Elle semble être très curieuse de Kaoru et de son amitié avec son ami d'enfance. C'est un personnage que j'apprécie beaucoup.
Scénario :
Nous sommes en plein dans l'année 1966. Kaoru change encore une fois d'école à cause du travail de son père. Très classique et dans la retenue, il est aussitôt catégorisé comme un bourge. Il se sent très vite assez mal et se met à la recherche du seul remède qui lui évite de vomir : de l'air frais. Mais alors qu'il arrive devant la porte du toit, il fait la connaissance de Sentarô, endormi devant la porte. Celui-ci croit d'ailleurs à une apparition, puis se fait disputer sans comprendre pourquoi, avant d'expliquer qu'il n'a de toute façon pas la clé. Mais les terminales qui lui ont volé ses clés sont de retour et il a bien l'intention de leur expliquer sa façon de penser avec les poings. Et c'est ainsi qu'une étrange relation d'amitié va naître… et très bientôt se renforcer grâce au Jazz…
Malgré toute l'action de ce premier tome, l'histoire a comme une saveur de Slice of Life. Le fait que l'on soit dans les années 60 joue beaucoup et nous offre un contexte particulièrement intéressant. De plus, la partie Jazz amène un véritable ouragan de fraîcheur, parfait en complément de l'incroyable Blue Giant. Il y a une douce trame romantique qui plane sur l'histoire, mais qui reste pour le moment assez minoritaire. Un coup de cœur pour ma part, ce scénario.
Graphisme :
Nous sommes en 2007. Globalement, la qualité graphique est bonne. Le design général est assez personnel à la mangaka et rend le titre assez intemporel, donnant, notamment au charadesign, un côté sobre qu'on retrouve généralement dans les œuvres des années début 80. Ce charadesign est par ailleurs particulièrement bien conçu. Il y a très peu de trames de fonds et elles sont généralement très basiques. Il y a très peu d'effets graphiques, mais ils sont très bien utilisés. Les scènes de musique sont excellentes. Le rythme semble très posé, mais l'histoire avance tout de même très bien.
La couverture est intéressante et le choix du motif de Kaze sur la couverture cartonnée donne un petit plus.
Point noir :
L'ambiance peut parfois faire penser à un yaoi, ce qui n'est pas du tout le cas.
L'histoire prend le parti de rester sur une ambiance Slice of Life plutôt que de se jeter dans la romance ou la musique. Cela ne plaira évidemment pas à tout le monde.
Conclusion :
J'ai un coup de cœur et une affection toute particulière pour Kids on the Slope. Un réveil doux sur le jazz des 60's qui enchantera tous les fans du genre et permettra aux autres de découvrir l'incroyable puissance de cette musique. Je ne peux que conseiller fortement ce titre à tous ceux qui cherchent un josei dans un cadre qui change un peu.