Kids On The Slope
Kids On The Slope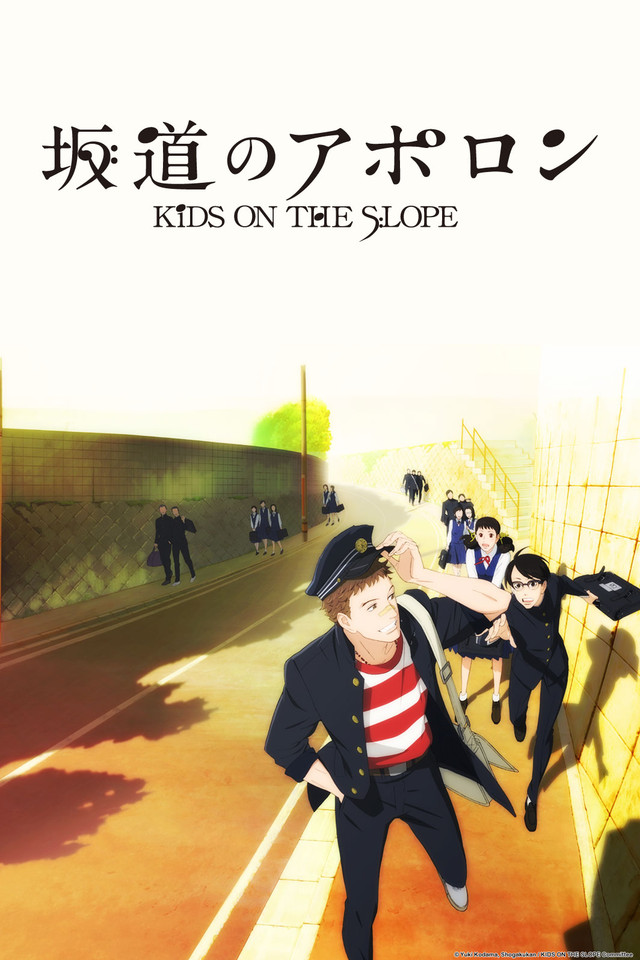 Article
On parle aujourd'hui de l'excellent anime : Kids On The Slope !
La petite histoire :
C'est à l'origine un manga écrit par Yuki Kodama entre 2007 et 2012 pour un total de 10 tomes chez Kaze.
L'anime dont on parle aujourd'hui est sorti en 2012 et compte 12 épisodes licenciés par Dybex.
La série est aussi connue sous son nom japonais : Sakamichi no Apollon.
Personnage :
Nishimi Kaoru est le protagoniste de cette histoire. Jeune adolescent qui entre au lycée, il déménage cette année là et se retrouve seul. Bon élève timide et réservé, c'est un pianiste de classique bien sous tout rapport. Il en pince très vite pour Ritsuko et tout autant pour le Jazz… C'est quelqu'un d'agréable à vivre qui pense aux sentiments des autres avant les siens, même s'il n'est pas très doué pour les comprendre. C'est quelqu'un d'assez torturé.
Kawabuchi Sentarô est le second protagoniste de l'histoire. Jeune homme de forte constitution grâce à des origines américaines, c'est quelqu'un qui s'emporte facilement et en vient vite aux mains. Non qu'il soit particulièrement agressif de nature, mais on le cherche souvent… Ami d'enfance de Ritsuko, ils sont tous deux liés par leur religion : ils sont catholiques. Batteur énergique et passionné, il pense Jazz, transpire Jazz, frappe Jazz et joue Jazz. Il sait reconnaître un bon musicien et les respects autant que possible. Il a énormément de respect pour Junichi, qu'il voit comme son grand frère. Il est amoureux de Yurika. C'est par ailleurs un timide maladif quand il s'agit de sentiments, en amour comme en amitié.
Ritsuko Mukae est la déléguée de Kaoru et Sentarô. Jeune fille sérieuse et bien vue de tous, elle est l'amie d'enfance de Sentarô et s'entendra très vite avec Kaoru. Elle est d'ailleurs amoureuse du premier sans jamais réussir à le lui faire comprendre. Fille du disquaire chez qui jouent ses deux amis, elle s'y connait en Jazz et chante très bien. C'est un personnage agréable qui vit à sa façon et virevolte entre les émotions de ses amis.
Yurika Fukahori est une jeune lycéenne populaire qui ne laisse personne indifférent. De nature assez ouverte, elle accepte sans problème les nouvelles relations et nouvelles expériences. C'est une fille très mature qui sait ce qu'elle veut et fera tout pour l'obtenir sans vraiment considérer les sentiments des autres.
Junichi Katsuragi est un ami d'enfance de Sentarô et Ritsuko qui les vois comme ses petits frères et sœurs. Trompettiste de talent, jeune homme populaire auprès de tous et doué dans tout ce qu'il fait, il se prépare à partir à Tokyo pour aller à l'université. Il fait partie du mouvement politique de la jeunesse communiste.
Scénario :
Nous sommes en 1966, au Japon, dans une petite ville de campagne. A cause du travail de marin de son père, Kaoru déménage chez un membre de sa famille où il sert essentiellement d'objet de démonstration lors des invitations de personnes extérieurs. Au lycée, alors qu'on commence déjà à lui coller l'étiquette d'"intello à lunette", il fait la connaissance de Ritsuko, la déléguée de classe et de la terreur de tout le lycée : Sentarô. Ce dernier va le prendre en grippe et en apprenant qu'il est pianiste, l'emmener plus ou moins de force chez le père de Ritsuko pour qu'ils puissent jouer ensemble. Mais Kaoru n'a jamais joué que du classique, alors il doit assimiler un nouveau genre : le Jazz ! Il se passionne petit à petit pour ce style qui commençait déjà à être délaissé par le grand public à l'époque… Kaoru parviendra-t-il à ouvrir son cœur pour offrir de sa personne à sa musique ?
Kaoru tombe très vite amoureux de Ritsuko, mais il comprend très vite qu'elle est amoureuse de Sentarô. Seulement, celui-ci ne s'en rend pas compte, puis tombe amoureux de Yurika, à qui il va essayer de transmettre sa passion. Dans les tourbillons des sentiments, qui Kaoru va-t-il aider ? Une fin heureuse est-elle possible ?
J'ai vraiment un énorme coup de cœur pour ce scénario. Le cadre est assez proche d'une romance lycéenne habituelle, mais certaines complications nous rappel que nous ne sommes qu'en 1966, donc pas de téléphone portable ou de ce genre de chose… Les sentiments des personnages évoluent petit à petit, en rythme avec la puissance de leur jeu, qui sort tout droit du cœur. La romance est présenté sous une forme assez cru, tout en abordant quelques thèmes plutôt originaux comme la religion ou les opinions politiques. Que ce soit pour la romance ou le Jazz, j'ai vraiment adoré cet anime.
Rajoutons une petite mention pour la partie culturelle, car certaines actions ou point des vus des personnages ne peuvent être compris qu'en replaçant l'œuvre dans le contexte historique et géopolitique de l'époque.
Graphisme :
Nous sommes en 2012. Le design général est assez "froid" et proche d'une animation CGI. Ce côté très 3D est donné par le studio MAPPA (dont Kids on the slope est le premier titre et qui nous offrira d'autres titres assez proches graphiquement comme Terror in Resonance ou Kagegurui). On peut aussi noter la participation du studio Tezuka Production. Le design des personnages est bien pensé et inscrit dans la mode des années 60 au Japon. Les scènes de jeux sont très bien faites et s'intègrent parfaitement grâce au design général si particulier. Les trames de fonds sont généralement très belles et agréables.
L'énorme plus de cet anime : les OST. Des scènes de Jazz d'anthologie que je pourrais écouter pendant des heures…
Point noir :
Si l'opening est très sympa graphiquement, il n'est pas du tout Jazz et c'est vraiment une déception….
Beaucoup de personne ont entendu parler de ce titre et en connaisse le nom. Mais la grande majorité pense qu'il s'agit d'un Yaoi… Alors que ce n'est pas du tout le cas ! C'est vraiment un Josei pur et dur…
Si vous voulez comprendre tous les tenants et les aboutissants du titre, il faut avoir déjà quelques connaissances sur l'histoire du Japon…
Conclusion :
J'ai eu un immense coup de cœur pour Kids On The Slope ! Un anime à la puissance Jazz qui joue d'un cadre originale ancré dans le passé, d'un scénario bien pensé et entraînant, de personnages attachants et d'une trame musicale incroyable qui font fleurir tous ces sentiments. Un josei que je conseille fortement à tous les fans de romance et de Jazz.
Acheter cet anime en version physique tout en soutenant le site : Kids On The Slope - L'intégrale (édition Gold)