Flying Witch
Flying Witch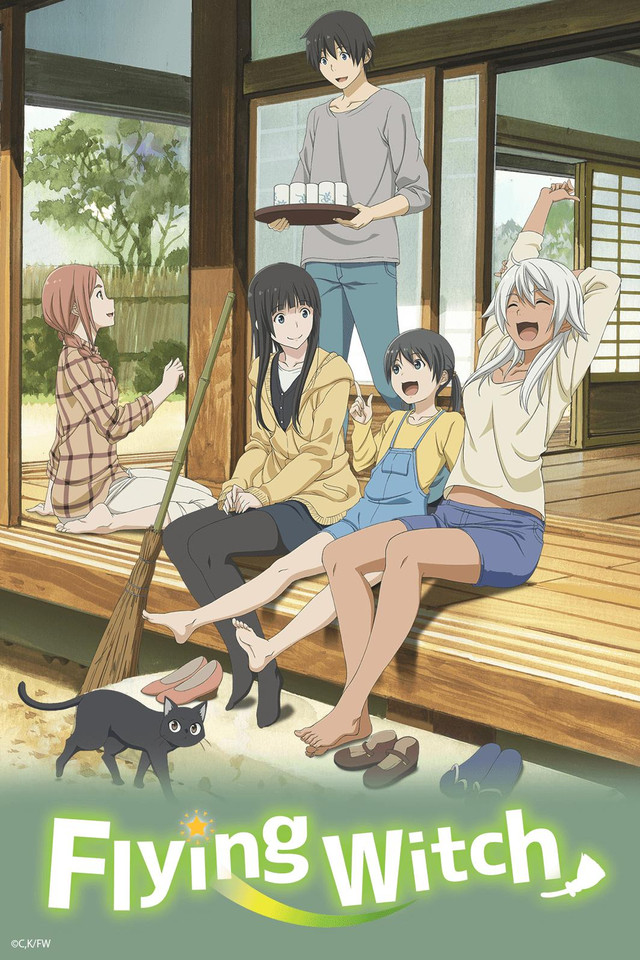 Article
On parle aujourd'hui de l'anime Flying Witch !
La petite histoire :
C'est à l'origine un manga écrit par Chihiro Ishizuka depuis 2012 pour actuellement 7 tomes, chez Nobi Nobi.
L'anime est sorti en 2016 et il possède 12 épisodes licenciés en France par Crunchyroll.
Personnage :
Kowata Makoto est l'héroïne de cette histoire. Jeune lycéenne de 15 ans, c'est une sorcière novice qui a décidé de quitter la ville pour s'installer en campagne. Elle est toujours accompagnée de Chito. Elle possède un très mauvais sens de l'orientation et a parfois du mal à maîtriser correctement ses sorts. C'est quelqu'un de plutôt maladroit et tête en l'air de nature. Elle est douce et très gentille en toute circonstance. C'est un personnage particulièrement agréable que j'aime beaucoup.
Chito est une chatte noire et le familier de Makoto. Elle a une relation plutôt ambiguë avec sa maîtresse, car on se demande souvent qui commande vraiment …
Kuramoto Kei est le cousin de Makoto. Sérieux et agréable, il prend soin de ceux qui l'entourent, notamment de sa petite sœur. C'est quelqu'un qui malgré son petit côté paresseux, n'a pas son pareille dans les tâches ménagères tel la cuisine ou le jardinage. Il n'aime pas beaucoup se prendre la tête et vie simplement.
Kuramoto Chinatsu est la petite sœur de Kei. Jeune fille survitaminée, elle est particulièrement curieuse de tout ce qui passe autour d'elle. Si elle se montre timide envers ceux qui l'intimide, elle n'a aucun complexe avec les autres. Malgré son côté immature, elle est plutôt intelligente pour son âge et reste assez équilibrée pour être agréable à vivre.
Kowata Akane est la grande sœur de Makoto. C'est une jeune femme excentrique, mais dont les pouvoirs de sorcières sont reconnus par toute la communauté. Elle a de grande connaissance magique, mais utilise ses sorts sans forcément réfléchir aux conséquences. C'est une fille volage qui peut passer des heures sans rien faire. Elle aime s'amuser et boire de la bière. C'est quelqu'un de plutôt immature et bruyant. Elle est tout de fois capable de redevenir sérieuse pour s'occuper de sa petite sœur. Elle possède elle aussi un familier : un chat blanc nommé Kenny.
Scénario :
Pour travailler ses pouvoirs magiques, Makoto décide d'abandonner Tokyo pour aller vivre chez de la famille dans une petite ville de campagne. C'est ainsi qu'elle se retrouve à vivre avec ses cousins : Kei et Chinatsu. Un quotidien, quelquefois malmené par Akane, l'attend. Quels seront les prochains sorts qu'elle apprendra ? Réussira-t-elle à s'habituer à sa nouvelle vie ?
Ce titre est clairement un Slice of Life. S'il n'y a pas vraiment de fil rouge, il présente tout de fois un quotidien particulièrement agréable à contempler. Il me rappelle Amanchu sous bien des aspects. L'univers est étonnamment travaillé, avec un grand nombre d'élément fantastique intégré de façon presque amusante. Enfin, la fin de l'anime est très réussi, alors que c'est souvent le point faible de ce type d'œuvre. C'est un excellent scénario de Slice of Life qui allie comédie, amitié et fantastique pour une détente des plus plaisante.
Graphisme :
Nous sommes en 2016. Le niveau graphique est plus que respectueux, avec un design qui s'accorde à rester dans un ton très reposant et agréable. Le design des personnages est très agréable et n'hésite pas à mettre nos personnages à leur avantage, tout en restant dans le raisonnable. Le moe est également très utilisé, mais là encore, avec parcimonie. Le rythme est assez détente et laisse le spectateur respirer pour toujours plus de plaisir. Les trames de fonds reviennent souvent, mais sont bien réalisées. Les parties 3D sont peu nombreuses, mais très bien intégré.
Les OST sont assez discrets, mais très agréables. L'opening : Shanranran de Miwa (cette artiste a notamment fait des openings pour Bleach, Fullmetal Alchemist, Doraemon, Boku no Hero Academia et Boruto) est très bien réalisé et donne une bonne idée du contenue de l'anime.
Point noir :
Si vous ne cherchez pas à vous détendre devant un anime Slice Of Life qui prend enfin son temps, alors cette œuvre n'est pas pour vous.
Conclusion :
J'ai vraiment adoré Flying Witch. C'est un Slice of Life particulièrement rafraîchissant qui nous propose un univers divertissant et très agréable. Je le conseille vraiment à tout le monde.