Après la Pluie
Après la Pluie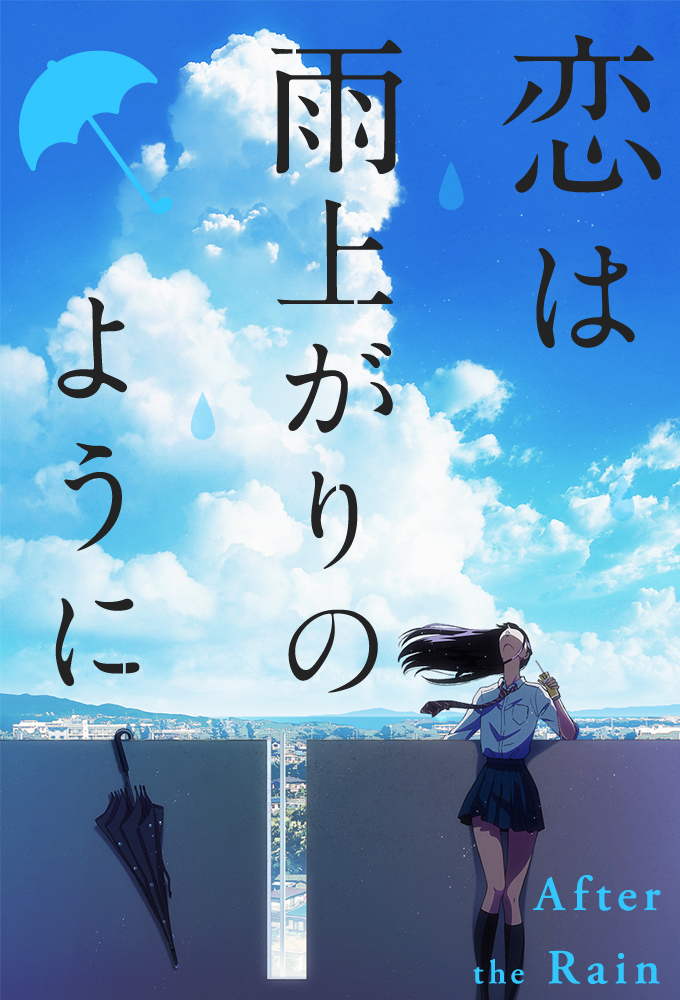 Article
Aujourd'hui on parle de l'anime Après la Pluie.
La petite histoire :
C'est à l'origine un manga écrit par Jun Mayuzuki entre 2014 et 2018 pour 10 tomes publiés en France chez Kana.
L'anime dont on parle aujourd'hui est sorti début 2018 pour 12 épisodes licenciés par Amazon Prime Video. En physique, il est publié par Kana.
Un drama en 4 épisodes est également sorti en 2018, suivi par un film LIVE peu après.
Le titre japonais de ce titre est Koi wa Ameagari no You ni. On entend parfois ce titre sous le nom After the Rain.
Personnage :
Tachibana Akira est l'héroïne de ce titre. Jeune lycéenne de nature solitaire et froide comme l'eau qui ruisselle le long d'une vitre, elle est l'ancienne As de l'équipe d'athlétisme. Spécialisée dans la course, elle est reconnue pour sa grande vitesse et son amour du vent jusqu'à ce qu'elle se fasse une rupture du tendon d'Achille. Depuis, elle travaille comme serveuse dans le restaurant-café de Masami Kondô, dont elle est tombée amoureuse. C'est une jeune fille mature avec une forte personnalité. Malgré le fait qu'elle soit peu expressive parmi les autres, elle a toutes les émotions et les emportements d'une jeune fille. C'est quelqu'un de particulièrement courageux qui est capable de comprendre et d'assumer ses propres sentiments. J'aime énormément ce personnage avec une aura très particulière.
Masami Kondô est le deuxième protagoniste de cette histoire. Patron d'un petit restaurant-café d'une grande chaîne, c'est un simple divorcé de 45 ans. Il manque d'autorité par rapport à ses employés, s'excuse sans arrêt et possède tout un tas de petits tics de quarantenaire. Il ne parle pas beaucoup de sa vie privée et c'est bien le seul sujet sur lequel il est assez strict. Il a lui-même un regard très critique sur sa vie et son parcours. Sa seule vraie passion est la littérature. C'est quelqu'un de naturellement trop gentil et maladroit avec les autres. C'est encore une fois un personnage que j'aime beaucoup, peut-être parce qu'il me fait un peu penser à moi ou à ce que je pourrais devenir…
Scénario :
Akira ne peut plus courir. Déprimée par sa blessure, elle se fait remonter le moral par une petite blague de Masami Kondô, avant de décider de travailler pour celui-ci dans son restaurant-café. En effet, elle est tombée amoureuse de ce dernier et tente ainsi de passer un maximum de temps avec lui. Mais son regard froid et insistant ne fait que le rendre mal à l'aise et il est persuadé qu'elle le déteste. Mais Akira n'abandonne pas et tente d'en apprendre toujours plus sur son manageur, de s'accrocher à ce nouveau rayon de soleil. Finira-t-elle par lui avouer ses sentiments ? Comment Kondô réagira-t-il ? Akira finira-t-elle par s'envoler à nouveau ? Le soleil finira-t-il par réchauffer la vie de Kondô ?
J'aime vraiment beaucoup ce scénario. Premièrement, on aborde de façon simple et efficace une romance entre une lycéenne et un quarantenaire, ce qui est loin d'être simple. Ensuite, l'approche est pensée de façon à ce que l'on ressente particulièrement les sentiments des personnages, leur point de vue et leur frustration. Le fil rouge du titre dévie de la plupart des romances que l'on trouve, ce qui le rend assez mélancolique et particulièrement beau. La façon dont les choses évoluent est naturelle et intéressante. C'est vraiment un excellent scénario.
Graphisme :
Nous sommes en 2018. Le niveau est très bon, adaptant avec beaucoup de souplesse et de savoir faire le design du manga. Encore une fois un très bon point pour Wit Studio (aussi connu pour L'Attaque des Titans, The Ancient Magus Bride et j'en passe). Le design général apporte la même sensation de fraîcheur que le manga, trouvant un juste milieu entre la pluie mélancolique et les effets kira kira des shojo traditionnels. On ressent également cela sur le design des personnages, jouant de silhouettes que l'on retrouvait dans les années 90-2000, mais d'un design plus actuel. C'est très bien pensé et ça fonctionne particulièrement bien. Il y a un certain nombre de scènes contemplatives particulièrement belles, mais les scènes plus actives ou comiques n'en sont pas moins réussies pour autant. Le rythme est agréable et bien pensé.
Les OST sont vraiment excellents. Assez classiques, ils sont très rafraîchissants et très bien réfléchis. L'opening : Nostalgic Rainfall de CHiCO est vraiment excellent musicalement comme en termes d'animation. Tout de fois, l'ending n'a pas a rougir, jouant plus de la fracture entre la pluie et le soleil qui l'a suit. C'est de l'excellent travail sur ce point également.
Point noir :
En France comme au Japon, ce genre de romance avec des âges assez éloignés ne plaira pas à tout le monde et lèvera un certain nombre de polémiques.
Ce titre s'adresse avant tout à des gens qui aiment la romance.
Conclusion :
J'ai vraiment adoré Après la Pluie. C'est un énorme coup de cœur, peut être encore plus en anime qu'en manga. L'approche est très intéressante, la façon de représenter tout cela est juste passionnante et notre héroïne possède une aura mélancolique et mature, délicieuse et fascinante. Je conseille très fortement ce titre à un public plus habitué aux Josei.