Aria The Masterpiece
Aria The Masterpiece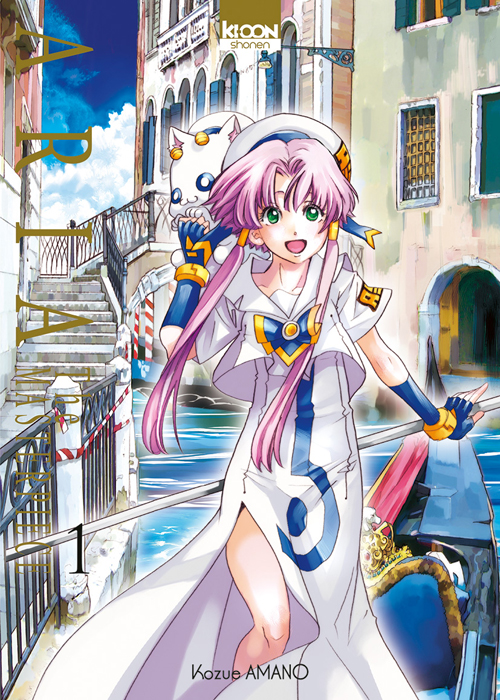 Article tome 1
Aujourd'hui on parle de Aria The Masterpiece !
La petite histoire :
Aria est un manga écrit par Kozue Amano de 2002 à 2008 pour 12 tomes. En France, il a été édité par Kami, puis plus récemment par Ki-oon dans une édition en double tomes : Aria The Masterpiece.
Le dernier tome sortira le 3 Juin 2021.
L'éditeur Kami avait abandonné l'édition de ce titre à partir du 7ème tome.
L'anime Aria the Animation est sorti en 2005 pour 13 épisodes.
L'année suivante, c'est au tour de Aria The Natural de sortir, en 26 épisodes.
En 2007 sortira l'OAV Aria the OVA ~Arietta~.
Enfin, Aria the Origination sortira en 2008, en 13 épisodes. C'est le seul anime de la saga à être licencié en France, par Kaze.
Tous les anime sont réalisés par Junichi Sato et par les studios Hal Film Maker.
Kozue Amano est aussi l'auteur de Aqua et Amanchu!.
Personnage :
Akari Mizunashi est l'héroïne de cette histoire. Originaire de Man-Home, elle a parfois le mal du pays. C'est une jeune femme qui s'émerveille pour tout et s'efforce de vivre avec un point de vue hyper idéaliste. C'est quelqu'un de rêveur, mais d'agréable à vivre. Elle est de nature à s'entendre avec tout le monde et est particulièrement gentille. Elle a une très grande force physique, mais a du mal à la maîtriser.
Aika S. Granzchesta est une jeune gondolière. Très fière de sa maîtrise, elle aime la compétition. Elle est particulièrement fan d'Alicia. De nature nerveuse, elle est très active et aime entraîner les autres avec elle, même si elle finit souvent par suivre Akari sans comprendre pourquoi. C'est quelqu'un avec un très bon fond.
Alicia Florence est une gondolière de premier ordre particulièrement reconnue et accessoirement la seule gondolière de la compagnie Aria. Douce et noble, c'est quelqu'un de mature et de particulièrement gentille. Elle est très attentionnée avec Akari, comme avec son patron.
Scénario :
XXIVème siècle. Mars a été transformée en une planète parfaitement viable. Et c'est dans cet environnement de science-fiction qu'a été recréé Venise. Akari est une jeune terrienne, appelée Man-Home, qui décide de partir de chez elle pour réaliser son rêve : devenir gondolière. Arrivée sur Mars, elle est d'abord un petit peu perdue par son nouvel environnement avant de prendre petit à petit ses marques… Parviendra-t-elle à grimper les échelons jusqu'à devenir une gondolière à part entière ?
Ce titre est assez compliqué à résumer… Dans le plus pur style de Kozue Amano, nous sommes dans un manga Slice of Life particulière chill. L'ambiance est vraiment tranquille et l'on suit la vie détente de notre héroïne, entre comique, contemplation et bon sentiment. Un manga particulièrement agréable qui rappelle le côté sophrologique des œuvres de son auteur. L'univers est bien pensé et tous les personnages sont agréables et attachants. C'est vraiment un excellent titre.
Graphisme :
Le niveau général de cette œuvre est vraiment bon. Malgré un design très épuré et doux, le design des personnages est très bien travaillé, trouvant un juste milieu entre le style graphique shojo, seinen, mais aussi avec une utilisation très bien jaugée du chibi. Les trames de fonds sont peu nombreuses, mais très bien travaillées. Les scènes sont très bien travaillées et restent toujours incroyablement propres. Le rythme est également très bon.
Les pages couleurs sont très belles. La double édition de Ki-oon est vraiment magnifique.
Point noir :
Selon une rumeur, 2 chapitres de l'édition originale ne sont pas présents dans cette édition.
Le slice of life n'est pas populaire en Europe, même si ce titre semble s'être bien vendu.
Conclusion :
J'ai particulièrement aimé Aria The Masterpiece. L'univers est incroyable, les personnages très attachants, le titre est sophrologique... C'est vraiment un titre exceptionnel que je ne peux que chaudement conseiller à tous, surtout en ce moment.