Nausicaä de la Vallée du Vent
Article
Aujourd'hui on s'attaque au film que l'on considère comme étant le premier du studio Ghibli : Nausicaä de la vallée du vent.
La petite histoire :
C'est à l'origine un manga écrit Hayao Miyazaki entre 1982 et 1994 qui compte 7 tomes, publié en France chez Glénat.
Le film légendaire sort en 1984, soit 1 an avant l'ouverture officiel du studio. Il faut savoir que sur ce film, Miyazaki et ses associés joue un vrai coup de poker : ils ont un film d'animation à 1 Million de Dollars (de l'époque) de budget, ce qui en fait un des films les plus chère de l'histoire à l'époque. Heureusement pour eux, le film marche bien au Japon, ce qui leur permet d'utiliser les bénéfices pour créer un certain studio : les studio Ghibli.
Le film sort aux états unis peu de temps après sa sortie au Japon. Mais les USA, trouvant qu'un film de 2 heures est trop long, retire un bon nombre de scène pour le faire tenir dans un format d'1h20… Ils focalisent le film sur l'action et changent la plupart des OST. Il sort aux USA sous le nom de Warriors of the Wind. C'est cette version qui atterrira en France en 1991 sous le nom de La Princesse des Étoiles. Cette version est désapprouvée à juste titre par tous les fans, ainsi que par Miyazaki lui-même.
Il faudra attendre 2006 pour que la Buena Vista Entertainment, aujourd'hui plus connu sous le nom de Walt Disney Studios Entertainment, récupère la version original du film et produit engin un doublage correct se calant réellement sur l'œuvre originale. C'est ainsi que Nausicaä de la vallée du vent sortira enfin en France, en DVD.
Le film sort au Japon sous le nom Kaze no Tani no Nausicaä. Vous pouvez en apprendre plus sur cette histoire en écoutant le 1er épisode de Mangacast Kaikoten (http://www.mangacast.fr/categorie/mangacast-kaikoten/). Il est réalisé et scénarisé par un certain Hayao Miyazaki et produit par feu Isao Takahata.
Personnage :
Ce film tourne essentiellement autour de son héroïne : Nausicaä, tout du moins en tant que personnage que l'on peut nommer.
Nausicaä est la princesse de la vallée du vent. C'est une fille au coeur d'or qui cherche à comprendre en profondeur pourquoi la nature et les hommes n'arrivent plus à vivre ensemble. Elle est très proche des animaux et parvient même à tisser un semblant de communication. Elle se déplace grâce à son planeur et n'hésite pas à prendre des risques. Sa gentillesse fait d'elle quelqu'un d'adorée par son peuple et j'avoue que je comprend bien pourquoi. Personnellement, elle me rappelle un peu Iria de Iria - Zeiram the Animation, sorti 10 ans plus tard.
Yupa est un guerrier vagabond de la vallée du vent. Très gentil et très sage, il n'en est pas moins un bretteur hors du commun. Il est proche des animaux et cherche un moyen de résoudre l'énigme de la forêt. C'est un peu l'oncle d'adoption de Nausicaä. Il est très intelligent et malgré un design particulier, jouit d'une certaine classe.
Oh-Baba est la doyenne de la vallée du vent. Aveugle, elle tient plus ou moins le rôle de sage et d'oracle. C'est en quelque sorte la grand-mère d'adoption de notre héroïne (son nom est d'ailleur un surnom affectueux que l'on donne souvent à sa grand mère). Elle a beaucoup de courage malgré son âge.
Kurotowa est un haut gradé des armées de Tolmek. C'est un pourris qui ne pense qu'à son ambition personnel et qui ne prend rien d'autre en considération.
Kushana est la princesse guerrière de Tolmek. Elle a un certain sens de l'honneur, mais ne comprend pas les bons sentiments, surtout envers la forêt. Elle est déterminée à suivre son plan jusqu'au bout, quitte à elle-même froler la mort. J'avoue que je ne sais pas trop quoi penser de ce personnage qui possède le même rang que notre héroïne.
Asbel est le prince de Pejite. Il a perdu sa soeur lorsqu'elle a été enlevé par Kushana. C'est quelqu'un de droit et sincère. Il est courageux malgré son âge et n'hésite pas à nager à contre courant pour suivre ses convictions.
Voilà pour nos personnages principaux. Ils sont tous profonds et possèdent une âme particulière à chacun. Il y a pas mal de figurant qui, si on s'y attarde, ne manque pas non plus de profondeur.
Scénario :
Nous sommes dans un univers post-apocalyptique comme c'est plus ou moins la mode dans la production nippone de l'époque. Tout de fois, nous trouvons dans cet univers toute la complexité habituel de Miyazaki. Le monde se partage en deux partie : les régions désertiques habitées par les hommes et la forêt toxique : la Fukaï. Cette forêt rejette un puissant gaze toxique qui empêche toute vie humaine de proliférer. Elle s'étend à une vitesse folle, dévorant toute vie sur son passage. Elle est protégé par des milliers d'insectes mutants aux proportions impressionnantes. Parmi ces bêtes, il y a les Omu. A mi chemin entre le ver, le scarabée et le bernard l'ermite, il est immense et recouvert d'une épaisse carapace. Lors qu'un de ses congénère est attaqué, ils se rassemblent en troupeaux de plusieurs dizaines de milliers d'individus et foncent droit sur l'attaquant en détruisant tout sur leur passage. On les considère comme les gardiens de la Fukaï.
Dans cet univers, notre jeune princesse parcours sans crainte la forêt à la recherche de matériaux pour son peuple. Elle entend alors de coups de feu. Elle remonte alors sur son planeur et part aider le pauvre voyageur, chargé par un omu. Elle parvient à calmer la bête et ainsi à sauver l'homme qui était attaqué : Yupa. Celui-ci lui donnera peu de temps après la mascotte de ce film : Teto le renard-écureuil.
Mais le calme est de courte durée, car un vaisseau Tolmek s'écrase juste à côté du village. Peu de temps après, alors que les villageois de la vallée du vent essaient de faire la chasse aux impuretés, l'armée de Tolmek débarque et prend le village en otage, tuant à l'occasion le père de Nausicaä. Kushana à l'intention de réveiller un des guerriers légendaire qui a détruit la terre mille ans plus tôt pour brûler la forêt, guerrier qu'elle a volé au Pejite après avoir exterminé une bonne partie de sa population. Mais notre jeune princesse est persuadée que brûler la Fukaï est la dernière chose à faire… De plus, les Pejite encore en vie n'ont pas l'intention de se laisser faire… La princesse Nausicaä réussira-t-elle à sauver la Fukaï et son peuple de la vallée du vent ?
Ce film est très profond, même s'il montre son message de façon un peu plus directe que la majorité des films de Miyazaki. Notre auteur camoufle à peine son message et ses parallèle. A mi-chemin entre l'imagination presque enfantine et un futur probable, ce film est d'une profondeur surprenante sans pour autant s'encombrer de superflue. C'est un film sur l'humain et sa relation à la nature. C'est vraiment un chef d'oeuvre.
Graphisme :
Ce film est peut être le moins bon graphiquement de toute l'histoire des studios Ghibli. Mais il faut aussi préciser qu'à sa production, les studios n'étaient pas encore créés. De plus, nous sommes en 1984. Soit le début de la production de l'anime Hokuto no Ken (Ken le Survivant), et à peine quelques années après Ulysse 31 (1981), Les Mystérieuses Cités d'Or (1982), Albator 84 (1982) ou encore Dr Slump (1981). Si l'on compare les graphismes de tous ces anime, il est indéniable que pour l'année, Nausicaä de la vallée du vent est d'une remarquable complexité et d'une qualité épatante. Le plus incroyable, c'est que ce film contient tous les plus grands standard que l'on retrouvera par la suite, telle que les avions multi-hélices aux multiples ailes ou encore la création de toutes ces créatures, qu'elles soient animal ou humanoïde. Enfin, l'expression des sentiments dans ce film est vraiment démente. On vit pleinement l'histoire la jeune Nausicaä, ce qui ne rend ce film que plus puissant.
Les OST sont recherchés et profond, et signés une fois encore par Joe Hisaishi.
Conclusion :
J'ai vraiment eu un coup de coeur pour ce film. Nausicaä de la Vallée du Vent est un pure chef d'œuvre. Il donne à réfléchir et devrait être à l'affiche bien plus souvent. C'est un film puissant que je conseille vraiment à tout le monde.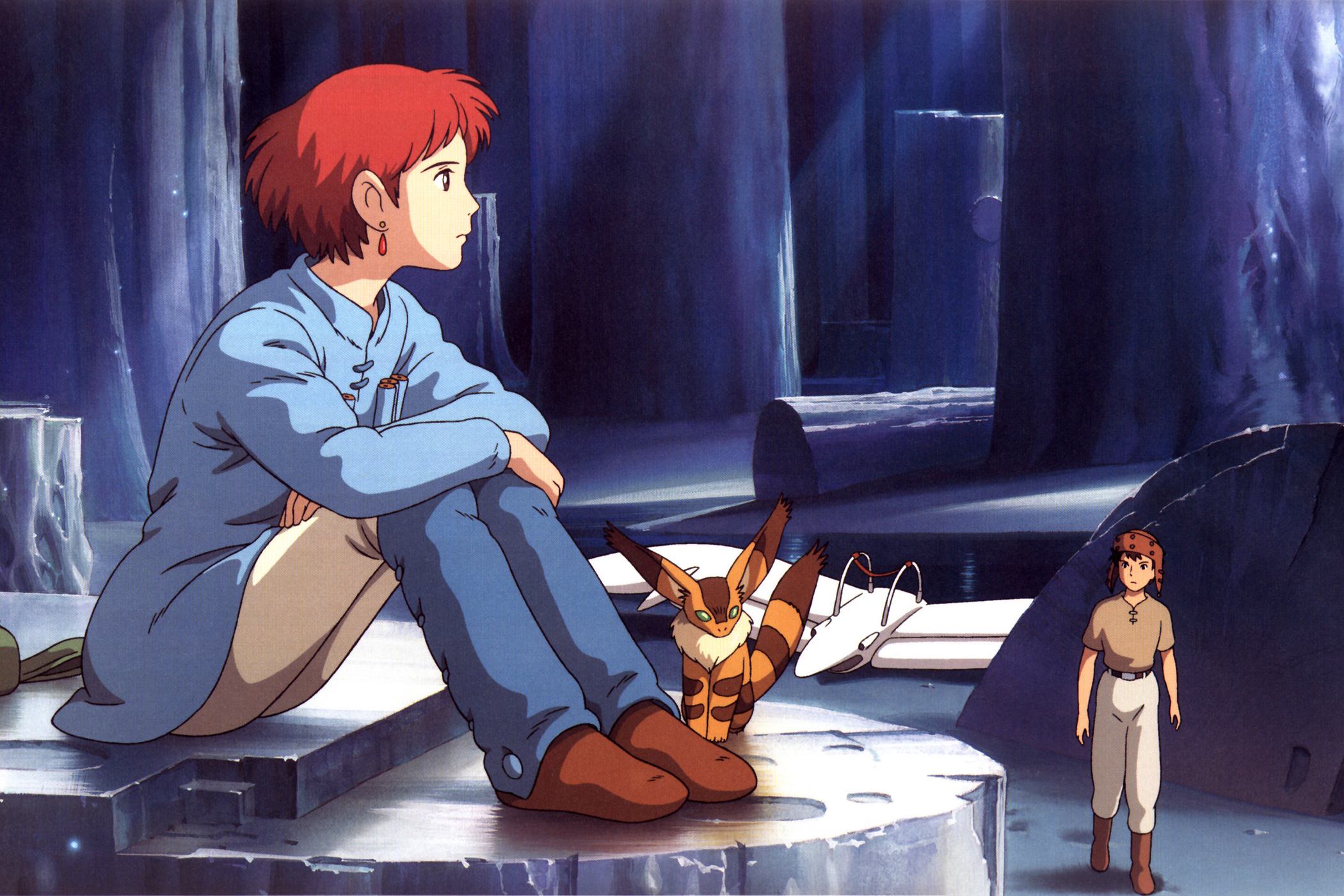 Date de dernière mise à jour : 20/10/2018