Burn The Witch
Burn The Witch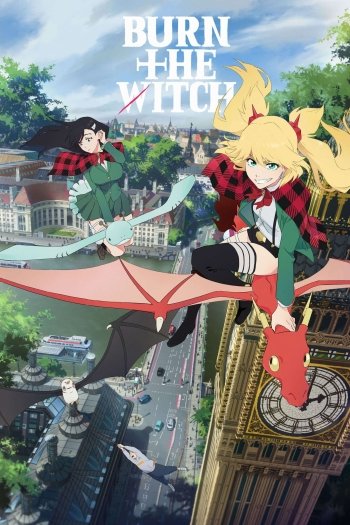 Article
Aujourd'hui on parle de Burn the Witch !
La petite histoire :
Il s'agit à l'origine d'un manga écrit par Tite Kubo (l'auteur de Bleach) en 2018 pour un One Shot chez Glénat. Une suite a d'ailleurs été annoncée.
L'anime dont on parle aujourd'hui est présenté soit sous la forme de 3 épisodes de 30 min, soit sous la forme d'un film de 62 min. Il est sorti en 2020 et est disponible en physique chez Kaze et en streaming chez Crunchyroll.
Personnage :
Ninny Spangle est l'héroïne de cette histoire. Demoiselle au tempérament explosif, elle s'énerve pour tout et n'importe quoi. D'une nature plutôt agressive, elle aime agir et se précipite souvent tête baissée droit vers le danger. Dans le monde "normal", elle est une chanteuse à la mode bien plus réservée. Malgré sa personnalité explosive, elle s'attache facilement aux autres, ce qui la rend assez sensible.
Noel Niihashiest la partenaire de Ninny. A l'opposée de son amie, Niiha est très calme et maintient en permanence son attitude froide et mature, ce qui lui permet notamment de supporter sa partenaire. Malgré son attitude, elle a tout autant tendance à répondre à la provocation et se laisse entraîner facilement. Contrairement à Ninny qui travaille pour monter en grade, Niiha travaille pour l'argent.
Balgo Ywain Parks est un camarade de classe de Noel. Après avoir été en contact avec un dragon, il se retrouve sous la responsabilité du duo. C'est quelqu'un d'assez simple qui ne réalise pas vraiment sa situation, ni celle de ses amies et qui n'a qu'une certitude : celle de voir en Noel la créature la plus attirante du monde.
Scénario :
Dans le même univers que Bleach, 2 ans après le dernier chapitre et à Londres. Le monde est séparé en 2 dimensions : le monde "normal" et le monde "fictif". Dans ce Londres fictif où sévissent dragons et sorcières, ces dernières ont fait de la capitale britannique un fort protégé de toute présence draconique. Pour lutter contre ces créatures surpuissantes, les sorcières veillent, grâce à leur organisation : la Wing Bind. Niihashi Noel et Ninny Spangle sont deux jeunes sorcières qui combattent ces créatures avec des aspirations bien différentes. Toutefois, l'implication de Balgo pourrait bien avoir des conséquences bien plus importantes que ce qu'elles avaient imaginé…
Un scénario qui nous propulse dans un univers reprenant légèrement les codes de Bleach sans toutefois les imiter. Le rythme nous empêche d'en apprendre beaucoup plus sur cet univers visiblement très complet pour mettre particulièrement en avant l'action et les deux personnages principaux. La réalisation est suffisamment bonne pour rendre nos héroïnes très attachantes et nous propulser dans une aventure bien plus en crescendo que ce qu'on pourrait penser.
Graphisme :
Nous sommes en 2020. Pour son année, la qualité est bonne. Le chara design fait évidemment beaucoup de rappel vers Bleach, mais nous propose au moins deux héroïnes assez différentes des anciens personnages de Tite Kubo. Le design général, lui, est plus classique et chargé que ne l'était Bleach, donnant un côté anglo-saxon très réussi. Les scènes comiques, quant à elles, n'ont pas beaucoup changé, mais sont toujours aussi efficaces. Les scènes d'action sont également très réussies et trouvent une dynamique assez étonnante dans la magie et le caractère de nos deux héroïnes. Le rythme fonctionne très bien et est assez différent des films habituels.
Les OST sont de très bonnes qualités, tout en étant bien plus classiques que les OST de Bleach.
Point noir :
Une seule véritable ombre au tableau : on en veut plus. La fin du film sonne comme un appel à l'aventure, qui ne semble pour le moment pas prévu…
Conclusion :
J'ai beaucoup aimé Burn The Witch. Un retour tonitruant de Tite Kubo avec un condensé un peu moins nekketsu du savoir-faire hors du commun qu'il mettait en pratique dans Bleach. Un très bon titre qui devrait ravir les fans de Bleach comme les néophytes.