The World God Only Knows
The World God Only Knows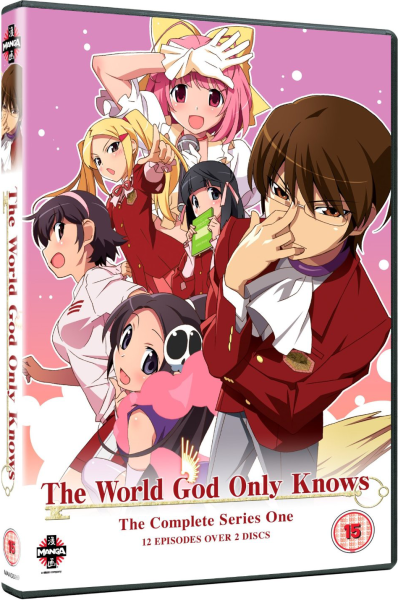 Article
On parle aujourd'hui de l'anime Que sa volonté soit faite !
La petite histoire :
C'est à l'origine un manga écrit par Tamiki Wakaki entre 2008 et 2014 pour un total de 26 tomes publiés en France par Kana.
Il y a d'abord eu deux adaptation en Light Novel sorti en 2009 et 2010 et écrites par Mamizu Arisawa.
Tout commence avec l'OAV Flag.0, sortit en septembre 2010.
L'anime dont on parle est sorti en 2010 et compte 12 épisodes. Il est licencié par @Anime.
La saison 2 de l'anime sortira en 2011 avec 12 épisode.
2 nouveaux OAV sortiront fin 2012 : Kami nomi zo shiru sekai : Tenri-hen.
Une dernière saison sortira en 2013 sous le titre Kami nomi zo shiru sekai: Megami-hen, en 12 épisodes.
Cette série possède plusieurs nom : son nom français : Que sa volonté soit faite, son nom anglais : The World God Only Knows et son nom japonais : Kami Nomi zo Shiru Sekai.
Personnage :
Katsuragi Keima est le protagoniste de cette histoire. Geek no-life, il déteste les gens IRL et concentre toute son énergie sur le seul domaine qui en vaut vraiment la peine : le jeux de drague. Véritable génie du genre, il est surnommé par toute la communauté : Le dieu de la conquête. Très intelligent, il possède une mémoire effroyable dont il se sert pour survoler ses cours et rester en tête de la classe tout en jouant. C'est quelqu'un de naturellement hautain et qui possède une très grande confiance en lui, tout du moins tant qu'on ne lui demande pas de faire de l'exercice physique. Quand il décide de faire quelque chose, il s'y met sérieusement. C'est un personnage que j'apprécie beaucoup et chez qui on trouve un petit côté misanthrope.
Elsea de Lute Irma est une démone en provenance des enfers dont le travail est de récupérer les âmes en fuite. Pour cela, elle compte beaucoup sur Keima, qu'elle considère un petit peu comme son grand-frère. C'est une fille maladroite et énervante, qui aggrave souvent la situation plus qu'elle ne l'arrange. Elle est très gentille et est toujours de bonne humeur.
Takahara Ayumi est une camarade de classe de Keima, qu'elle surnomme "Otamega" (contraction de otaku et megane, soit l'otaku à lunette). C'est une sportive toujours pleine d'énergie qui s'implique beaucoup dans son entraînement. C'est une fille assez sympathique, quoi qu'un peu rustique. Elle est assez peu à l'aise avec les sentiments amoureux.
Nakagawa Kanon est une idole qui est officiellement dans le lycée de Keima (vu que son nom est une référence directe à l'idole de légende...). C'est une idole très populaire qui fait de son mieux dans son travail. Elle aime être sous les projecteurs et sa plus grande peur est de devenir "invisible" pour certain. C'est pour cette raison qu'elle s'intéresse à Keima, quand celui-ci se désintéresse totalement des filles IRL. C'est une fille kawaii et moe, qui sait se mettre en valeur dans toutes les situations. Elle est très intéressante.
Shinomiya Shiori est une jeune lycéenne qui travaille à la bibliothèque. Passionné de littérature, c'est une liseuse hardcore qui a lu tous les livres dont elle s'occupe et déteste la technologie. C'est une fille naturellement discrète et introvertie qui n'ose pas parler aux autres. C'est un personnage que j'aime beaucoup et possède un très grand potentiel moe.
Scénario :
Elsea débarque sur terre pour récupérer des âmes en fuite. Pour cela, elle fait un pacte qui lie son destin avec celui de Keima, celui que l'on surnomme le dieu tombeur. Celui-ci refuse d'abord, avant d'apprendre que s'il les âmes en fuite ne sont pas récupérées, il sera décapité. C'est ainsi qu'il se retrouve impliqué dans cette histoire et se retrouve à devoir aider la démone à chasser les âmes. Seulement, ces dernières se sont réfugiées dans des jeunes filles. Pour les en chasser, Keima devra les conquérir et les embrasser pour en expulser le mal, après quoi elles perdront la mémoire et Elsea pourra récupérer l'âme en fuite. Les dons du Dieu de la conquête fonctionnent-ils aussi bien IRL dans les jeux ? Parviendra-t-il à garder sa tête ? Aura-t-il une dose suffisante de jeu pour survivre ?
L'univers est assez WTF, mais il reste intéressant. Parmi tous nos personnages, s'il y en a un retenir, il s'agit bien de Keima. Divin, il maîtrise la psychologie de la jeune fille sur le bout des doigts et parvient ainsi à tisser des toiles d'amour très intéressante, sans pour autant tomber dans le cucul et l'évident. Qui a dit qu'il fallait être romantique pour séduire ? En dehors du côté conquête, cet anime n'est qu'une comédie tournant autour des maladresses d'Elsea. Enfin, le dernier épisode explicite le véritable niveau de divinité de Keima. C'est un bon scénario pour ce qui de la trame principale.
Graphisme :
Nous somme en 2010, à la fin de la grande vague de création d'anime. Pour cette époque, le design général, notamment des créatures féminines est particulièrement beau et soigné. La partie "romantique" est vraiment très bien travaillé. Le niveau graphique est acceptable et les trames de fond d'un niveau acceptable.
Les OST sont assez bons. L'opening : God Only Knows de ELISA est particulièrement intéressant, car donnant un véritable côté divin à l'anime.
Point noir :
La partie comique n'est pas suffisamment travaillée et finit par être un peu ennuyante.
La dernière quête amoureuse tourne autour de Shinomiya. C'est un personnage que j'aime énormément. Toutefois, le côté calme est tellement mis en avant que cette partie en devient terriblement ennuyante.
Le dernier épisode ne relance pas du tout l'anime, bien au contraire.
Conclusion :
The World God Only Knows est un anime en mi-teinte. D'un côté j'aime son principe et ses personnages, mais de l'autre certains aspect de l'anime sont assez mal travaillé et un peu ennuyeux. Je pense qu'il intéressera les fans de romances un peu WTF.