How NOT to summon a demon lord
How NOT to summon a demon lord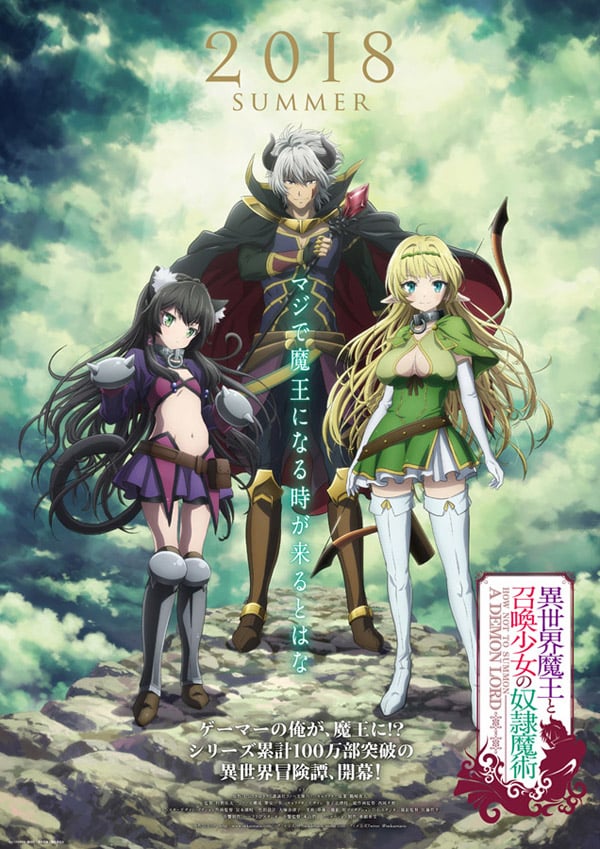 Article
Aujourd'hui on s'intéresse à l'anime isekai Maou to Shoukan Shoujo no Dorei Majutsu !
La petite histoire :
C'est à l'origine un Light Novel écrit par Yukiya Murasaki et illustré par Takahiro Tsurusaki depuis 2014 pour aujourd'hui 13 volumes.
Il a d'abord été adapté en manga depuis 2015 par Naoto Fukuda. Le titre est toujours en cours avec 12 volumes.
L'anime dont on parle aujourd'hui est sorti en 2018, est licencié par Crunchyroll et compte 12 épisodes.
Le jeu mobile Isekai ma? to sh?kan sh?jo no dorei majutsu X Reverie est sorti en 2018 sur Android et IOS.
Une saison 2 est prévue pour 2021 : How NOT to Summon a Demon Lord Ω, toujours chez Crunchyroll.
Personnage :
Diablo, de son vrai nom Sakamoto Takuma, est un geek no life de 30 ans. Son occupation principal : travailler son role play du personnage qu'il a créé : Diablo. C'est ainsi qu'il est devenu un des meilleurs joueurs du MMO Cross Revery. Il garde son role play en toute circonstance, ou tout du moins essaie, car il panique facilement quand il tombe sur un élément qu'il ne connaît pas. Il tient particulièrement à venir en aide à celles et ceux qui lui font confiance. C'est un excellent combattant qui identifie très vite les tactiques qui lui permettent de l'emporter.
Rem Galleu est une jeune panthérienne qui cherche par tous les moyens à se défaire de la malédiction qui pèse sur les femmes de sa famille : porter Glebsklem, le roi démon scellé. C'est une magicienne et une combattante de talent, mais qui manque de confiance en elle. C'est un personnage que j'apprécie beaucoup et qui en sait beaucoup sur la noirceur de son monde. Elle est du genre Tsundere.
Shera L. Greenwood est une jeune mage toujours de bonne humeur et amie avec tout le monde. Un peu simplette sur les bords, elle aime voir les choses d'un côté positif, voire trop positif. Elle ne sait pas grand-chose du monde et vit dans l'insouciance. Tout de fois, elle cherche à voir ce qu'il en est et à aider les autres autant qu'elle peut.
Scénario :
Alors que Takuma Sakamoto écrase les autres joueurs de son MMORPG fétiche : Cross Reverie, grâce à son personnage Diablo, il se retrouve invoqué dans un autre monde semblable à Cross Reverie sous les traits de ce dernier. Instinctivement, il joue son personnage et incarne "Diablo Le seigneur démon" devant les deux jeunes filles qui l'ont invoquées : Rem et Shera. Mais alors qu'il était censé devenir leur esclave, il inverse involontairement le sort grâce à une bague magique et se retrouve maître des deux jeunes filles. Diablo comprend alors qu'il est dans un monde proche de Cross Reverie et que sa puissance est surdimensionnée par rapport à celle des humains qui l'entourent. Que va faire notre seigneur démon ?
Nous suivons les aventures d'un personnage surpuissant, mais dont les pouvoirs sont justifiés. Pour un isekai gaming, c'est une approche intéressante et bien pensée, ce qui change de la plupart des titres du genre. Psychologiquement, notre protagoniste ne change pas beaucoup, même s'il apprend à prendre un peu de distance avec son role play et à réagir face à des éléments qu'il ne connaît pas ou qu'il tenait jusque-là pour acquis. Les personnages qui l'accompagnent en revanche, changent à son contact et sont ballotés par un scénario qui est loin d'être tendre. Si les moments agréables ne manquent pas, les combats et moments difficiles sont également légions. C'est un très bon titre avec un scénario surprenant pour son genre.
Graphisme :
Nous sommes en 2018. Le niveau général est bon, mais sans plus. Le design des personnages se basent sur les clichés isekai habituels, ce qui est à double tranchant en fonction du point de vue du spectateur. Les scènes de combats sont très bien réalisées et raccord avec la puissance des personnages. Les scènes de ecchi sont un peu simplistes et n'apportent pas grand chose, mais jouent beaucoup dans les relations entre nos personnages. Le rythme est bon et agréable.
L'opening : DeCIDE de SUMMONERS 2+ est assez représentatif de la série, mais manque un peu d'originalité à mon goût.
Point noir :
Si vous n'aimez ni les ecchi, ni les harem, alors évitez ce titre.
Je déconseille ce titre aux plus sensibles pour ces scènes de ecchi, comme de combat.
Ce titre prend un risque en jouant avec les clichés des isekai… ça ne plaira pas à tout le monde.
Conclusion :
J'ai bien apprécié isekai Maou to Shoukan Shoujo no Dorei Majutsu. C'est un isekai gaming original et intéressant qui joue des classiques pour imposer un scénario bien construit. Je le conseille aux fans d'isekai et de ecchi. Je suivrais les news de la saison 2 !