Golden Boy
Golden Boy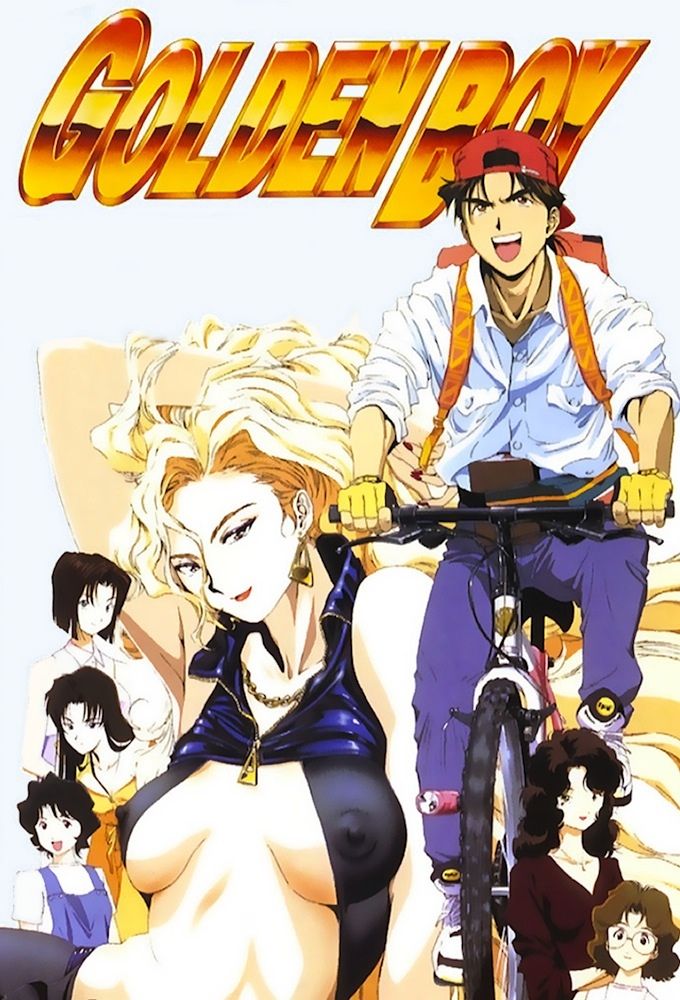 Article
Aujourd'hui on s'attaque à une suite d'OAV des années 90 : Golden Boy !
La petite histoire :
Goden Boy est à l'origine un manga écrit par Tatsuya Egawa entre 1992 et 1997. Il compte 10 tomes publiés en France par Dybex et Tonkam.
Entre l'hiver 1995 et le printemps 1996, c'est au tour des 6 épisodes d'OAV dont on parle aujourd'hui de voir le jour. réalisé par Hiroyuki Kitakubo et licencié par Dybex.
En 2010, Tatsuya Egawa remet le couvert et écrit 2 tomes de Golden Boy 2 ~ Sasurai no O-Benky? Yar?: Gein?-kai ?abare-hen. Ils ne seront pas publiés en France.
Parlons un peu de Tatsuya Egawa. Ce mangaka a commencé sa carrière en 1984 avec Be Free! (12 tomes sorties avec l'aide de son assistant Kosuke Fujishima, l'auteur de Ah! My Goddess). Il a ensuite enchaîné en 1988 avec Talulu le magicien (21 tomes et plus de 80 épisodes d'anime), puis avec Golden Boy. En 1993, il commence Tokyo Daigaku Monogatari, qu'il ne terminera que 7 ans plus tard (34 tomes, un drama, un anime et un film). A partir de 1998, il commence plusieurs séries en même temps, qui se terminent généralement au bout de quelques tomes. Parmi celles-ci, les plus importantes sont Last Man (12 tomes) et Yapou, bétail humain (9 tomes et encore en cours).
Enfin, parlons de Hiroyuki Kitakubo. Il a travaillé dans de nombreux staff d'anime et de film, tel que Mobile Suit Gundam (1979), Stop!! Hibari-kun! (1983-1984), Lamu (1984-1986), The Super Dimension Fortress Macross: Do You Remember Love? (1984), Black Magic M-66 (1986), Patlabor (1988-1989), Akira (1988), Roujin Z (1991), JoJo's Bizarre Adventure (les OAV de 1993) ou encore FLCL (2000-2001).
Bref, vous aurez compris qu'il s'agit de la réunion de deux géants des années 90 !
Personnage :
Il n'y a qu'un seul personnage principale et les autres personnages changent à chaque épisodes.
Oe Kintaro est le héros de cette histoire. Il a 25 ans et décide à la fin de ses études de droit de lever le camps sur son vélo pour étudier à l'école de la vie. Il a l'air d'un simple débile pervers et maladroit, mais il fait tout ce qu'il peut pour aider ceux qui l'entoure, tout en approfondissant au maximum sa relation avec de jolies femmes. Il a une sorte de maladie contemplative pour les cuvettes de WC où s'assoient les muses qui l'entoure. J'avoue que je ne sais toujours pas si c'est un surdoué ou un débile. Il passe son temps à noter des détails dans son calepin, généralement plus sur les filles avec qui il travaille que sur son travail en lui-même...
Mme la présidente gère une société d'informatique. C'est une bonne patronne qui gère d'une main de fer son équipe constitué uniquement de jolies filles. Elle n'a aucune confiance en Kintaro à son arrivé.
Noriko est une jeune fille qui vit avec ses parents dans un restaurant de nouille traditionnelle. Elle est très gentille, très douce et excuse souvent les erreurs de Kintaro. Elle fait sans conteste partie des personnages les plus agréables de cet anime.
Naoko Katsuda est la fille d'un chef yakuza. Elle aime avoir ce qu'elle veut et engage Kintaro comme prof particulier. C'est une fille insolente et assez désagréable.
Ayuko Hayami tient une piscine. C'est une ancienne championne olympique qui embauche Kintaro car il a fait un pari avec elle. Elle a un caractère assez dure en apparence et gère ses équipes et ses élèves d'une main de fer.
Reiko Terayama est une pilote de moto. Membre de la haute société, elle ne prend son pied que dans la conduite de son bolide. Elle se moque un peu de Kintaro qui tente de la rattraper avec son vélo.
Chie travail dans un studio d'animation spécialisé dans le hentai. C'est une fille très douce et très gentille qui se laisse facilement entraîner.
Voilà ! Il n'y a pas énormément de personnage, mais ils sont en général assez profond, ou tout du moins assez intéressant.
Scénario :
Kintaro parcourt le japon sur son fidèle vélo. En chemin, il croise de superbes créatures et s'arrête pour travailler pour elles. Il se rapproche autant qu'il peut du sujet de ses fantasmes, mais s'attire généralement des ennuies. Réussira-t-il à aider toutes ses vestales ?
Le dernier épisodes se base sur un studio d'animation spécialisé sur le hentai. On change un peu de registre, puisque cette fois Kintaro ne fait pas trop de gaffes. C'est également l'occasion de retrouver certains personnages des épisodes précédents… Réussiront-ils à finir l'anime à temps ?
Clairement, le scénario n'est pas profond. Tous les épisodes suivent plus ou moins le même modèle et on s'attend à chaque fois à leur dénouement. Seul le dernier épisode reste assez intéressant de ce côté. Détail intéressant : cet anime est plutôt drôle et joue des quiproquo d'un séducteur raté censé sauver le Japon, voir même le monde !
Graphisme :
Bon, rappelons que nous sommes en 1995. C'est difficile de juger convenablement une œuvre contemporaine de la fin de Dragon Ball Z et dont l'année de production à vue le jour essentiellement d'anime de type Magical Girl et sur les mecha d'inspiration Gundam. Le niveau global pour l'époque est plutôt bon, même si les rictus pervers de Kintaro sont juste insupportables. Le design des personnages est plutôt choisi pour un anime qui revendique son ecchi cru, quoi que loin des rumeurs pornographiques qui fusent sur le manga. Les trames de fond sont assez classiques. Les OST sont plutôt bon et rehaussent un peu le niveau global de l'anime.
Point noir :
Bon, le scénario de base est un point noir. Je trouve dommage qu'il n'y ait pas un peu plus de mélancolie. Ça donnerait plus de profondeur a un anime qui avait du potentiel.
Difficile de parler des graphismes, si ce n'est des grimaces de Kintaro, qui sont vraiment de mauvais goûts.
Conclusion :
J'ai bien aimé Golden Boy. C'est un ecchi sans codes ni limites qui se trouve être assez drôle et sympathique. Je le conseil aux fans d'ecchi des années 90.
Date de dernière mise à jour : 26/08/2018