Magus of the Library
Magus of the Library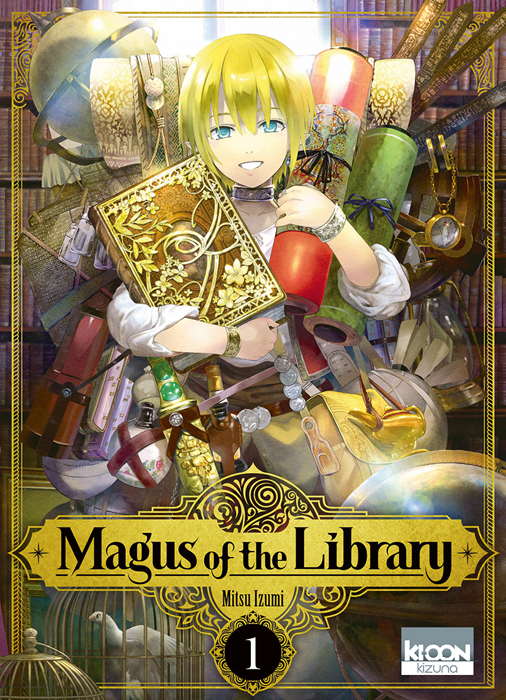 Article tome 1
On s'attaque aujourd'hui à l'incroyable Magus of the Library !
La petite histoire :
Ce manga est écrit par Izumi Mitsu depuis 2017. Il y a aujourd'hui 3 tomes publiés chez Ki-oon.
Il est aussi connu sous le titre Toshokan no Daimajutsushi.
Personnage :
Shio Fumis est un jeune garçon de 6 ans, qui est mis de côté par les gens de son village à cause de sa différence physique. Il est d'ailleurs surnommé "oreilles pointues". Il est élevé par sa grande sœur, qui travail jour et nuit pour lui permettre d'aller à l'école. Il est amie avec la fille du bibliothécaire, ce qui lui permet de lire des livres "à la sauvette". C'est quelqu'un de très gentil qui donne beaucoup d'importance aux autres et à leurs sentiments. Il aime les livres et souhaiterait pouvoir en lire le plus souvent possible.
Sedona Blue est une jeune Kahuna de 17 ans. Membre du département de protection, c'est une mage puissante qui travail à la bibliothèque de la capitale. Elle aime énormément les livres et aime savoir quel relation entretiennent les autres avec eux. On ne sait pas grand chose de sa vie, mais c'est quelqu'un de très gentil et très attentionné. J'aime énormément ce personnage.
Scénario :
Un groupe de Kahuna, des employés de la bibliothèque de la capitale chargés de s'occuper des livres, se rend au village d'Amun pour y récupérer un grimoire. Sur place, elles font la connaissance de Shio. Celui est maltraité par les enfants du village et vit dans l'indifférence totale des adultes, bibliothécaire compris. Mais sa rencontre avec les Kahuna pourrait très bien changer sa vie… Parviendra-t-il à réaliser son rêve de se rendre à la capitale ? Les Kahunas parviendront-elles à retrouver le grimoire avant qu'une catastrophe ne se produise ?
Ce scénario est assez étonnant. Si on se penche sur le nombre d'évènement dans ce manga, nous sommes très proche du Slice of Life. Or, ce n'est pas du tout l'impression qu'il donne dans sa lecture. Il aborde beaucoup de thèmes différents et prend son temps pour les traiter. On n'a beau découvrir le fil rouge de l'histoire qu'à la fin du tome, la tension provoquée par les Kahunas est largement suffisante pour nous tenir en haleine sans tout de fois nous presser à découvrir la suite sans profiter des paysages. Bref, c'est un scénario intéressant et qui permet à notre mangaka de donner tout ce qu'elle a.
Graphisme :
Nous en arrivons donc logiquement à ce point. Ce manga n'est pas bon. Il est juste divin ! Le niveau graphique de cette œuvre est juste démentiel ! Non seulement le design général et celui des personnages sont bien pensés par rapport à l'univers presque médiéval, mais les détails de ceux-ci sont juste ahurissants ! On peut décortiquer les planches pendants des heures tout en continuant à découvrir des petits détails. Je ne parle même pas des trames de fonds, nombreuses, détaillées et magnifiques. Bref, un sans faute pour ce premier tome ! Le rythme est bon, même si au vue du nombre de planche à admirer, je trouve les chapitres un peu longs…
Il y a quelques détails sur l'histoire sur la couverture cartonnée. C'est des plus intéressants.
La couverture est vraiment très belle. Mais en plus de ça, elle possède un grain qui fait penser aux vieux livres reliés. Vraiment un superbe travail de la part de Ki-oon !
Point noir :
Comme je le disais, 4 chapitres, c'est peu être un peu trop lourd malgré la beauté de l'œuvre…
Il n'y a pas de message de l'auteure.
Conclusion :
J'ai vraiment eu un immense coup de cœur pour Magus of the Library ! C'est un manga magnifique, aussi bien graphiquement que scénaristiquement. Je le conseille très fortement à tout le monde, il en vaut vraiment la peine.
Date de dernière mise à jour : 16/08/2020