The Garden of Words
The Garden of Words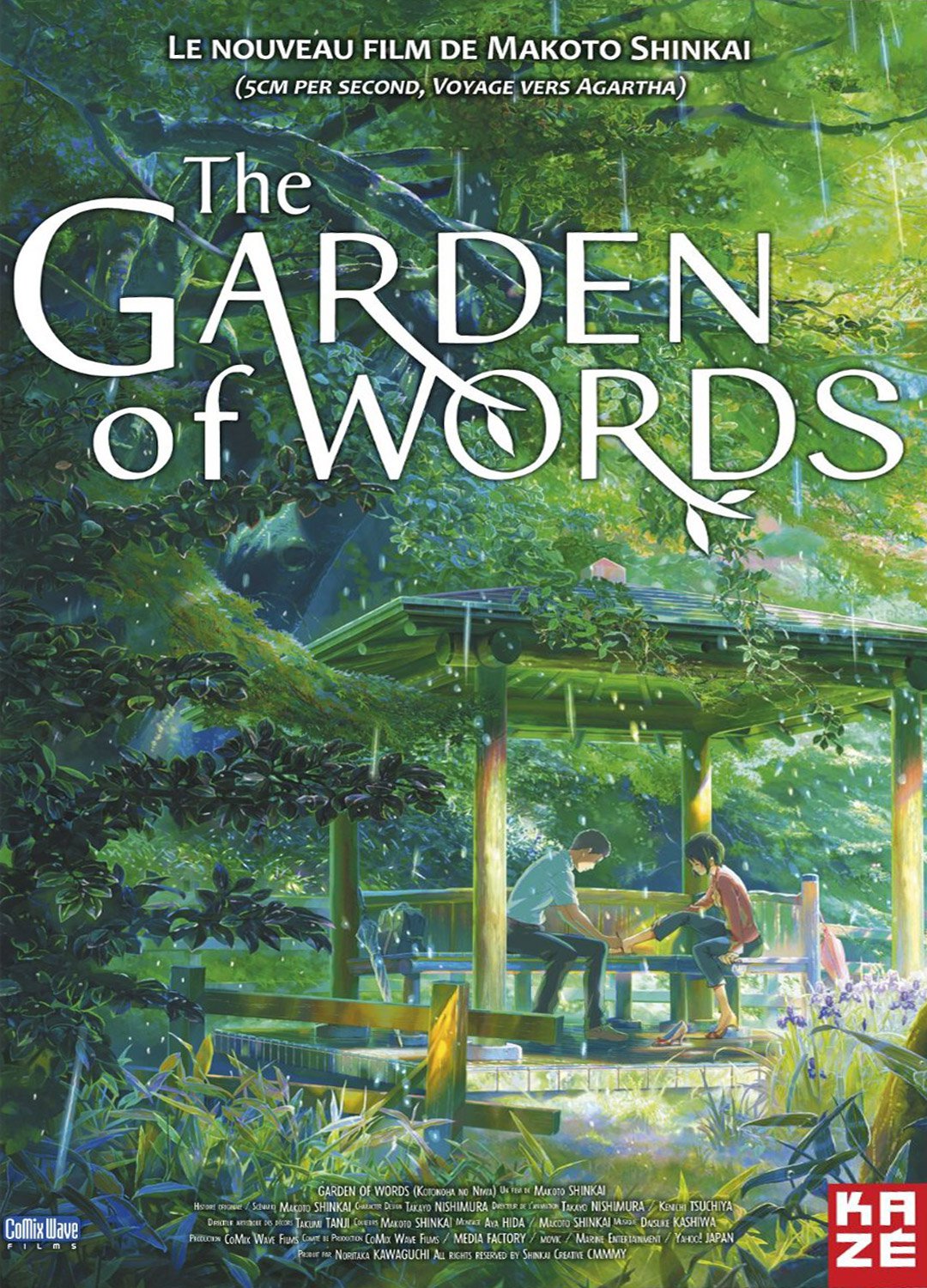 Article
Aujourd'hui on parle de The Garden Of Words ou Kotonoha No Niwa.
La petite histoire :
Ce film est réalisé et scénarisé par le célèbre Makoto Shinkai, réalisateur de La Tour au-delà des nuages (2004), 5 centimètres par seconde (2007) ou encore le sublime Your Name (2016).
Il est sorti des studios CoMix Wave Films en 2013, il dure 46 minutes et il est licencié par Kaze.
Il a été adapté en manga par Midori Motohashi en décembre 2013 (1 tome) et en roman par Makoto Shinkai lui-même en 2014.
Personnage et Scénario :
L'histoire se passe dans un lycée et un parc en plein centre ville de Tokyo. Takao est un mauvais élève qui a prit la résolution de sécher la matinée de cours à chaque fois qu'il pleuvra. Il va à chaque fois au parc où il s'assoit sous un abri et dessine toute la matinée.
Un jour, il y rencontre Yukino, une jeune femme qui semble déprimée et qui se ballade avec un sac remplis de bière et de chocolat. Elle vient elle-aussi s'assoir à chaque fois qu'il pleut et semble être un peu perturbée.
L'histoire se passe ainsi. La relation entre nos deux personnages va évoluer petit à petit avec le temps. Ils dévoileront petit à petit leurs identités respectives, jusqu'au dénouement final.
C'est clairement le genre d'histoire où la partie d'action des relations se fait en off. Ça change vraiment des habitudes et c'est loin d'être désagréable.
Il y a peu de personnages, mais ils sont bien construits, particulièrement réalistes et profonds. L'auteur arrive à les dévoiler sans pour autant nous lâcher dans un CV grandeur nature, ce qui permet aux personnages de garder une certaine intimité tout en donnant ce qu'il faut pour comprendre leurs sentiments.
Enfin, je trouve que la durée réelle de ce film est très courte (à peine plus de 40 min) pourtant, non seulement le temps passe lentement, mais on n'arrive pas à s'ennuyer. Comme lors-ce que l'on regarde la pluie tomber par la fenêtre en plein cours (ce qui me manque de plus en plus) .
Graphisme :
Les graphismes sont somme toutes assez extraordinaires. Moins difficile à réaliser que la moyenne, car l'action est assez rare, il n'en reste pas moins que les scènes de pluie (qui sont les plus longues du film) sont juste époustouflantes. Les personnages sont assez banals, ce qui renforce les paysages et la mélancolie. On arrive presque à sentir la pluie et l'orage, c'est vraiment incroyable.
Point noir :
Le seul vrai point noir, c'est que les fans de shonen ou seinen risquent de s'ennuyer un peu.
Conclusion :
The Garden Of Words est un film incroyable pour les mélancoliques et les fans de shojo. Il est très rafraichissant et j'ai eu beaucoup de plaisir à le regarder. Il est très accessible et plaira à beaucoup de monde.
Bande Annonce Officiel de Kaze
Date de dernière mise à jour : 30/10/2018