Tanya The Evil
Tanya The Evil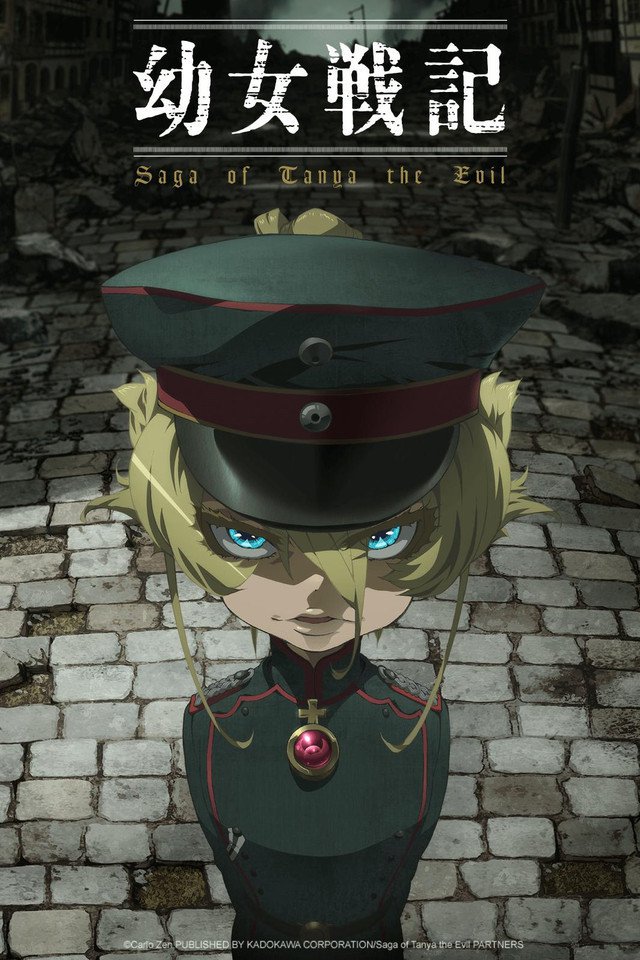 Article
On parle aujourd'hui de Yôjo Senki : Saga of Tanya the Evil !
La petite histoire :
C'est à l'origine un Light Novel écrit par Caro Zen et illustré par Shinobu Shinotsuki depuis 2013 pour actuellement 12 volumes.
Il est adapté en manga sous le titre : Tanya the Evil par Chika Tôjô depuis 2016. Il y a actuellement 18 tomes chez Delcourt Tonkam.
L'anime dont on parle aujourd'hui est sorti en 2017 pour 12 épisodes chez Crunchyroll.
Une seconde adaptation manga a vu le jour depuis 2017 et compte actuellement 2 tomes dessiné par Kyôichi : Yôjo Senki Shokudô.
Un film d'animation est sorti le 8 Février 2019 : Saga of Tanya the Evil : The Movie. En 101 minutes chez Crunchyroll.
Ce titre fait également partie du crossover Isekai Quartet.
Il est aussi connu sous son nom japonais : Yôjo Senki.
Personnage :
Tanya von Degurechaff est l'héroïne de notre histoire. Malgré son très jeune âge (elle a à peine plus de 10 ans), c'est une mage surpuissante et un chef d'unité de l'armée impériale très efficace. Elle ne juge que par l'efficacité, ce qui la rend particulièrement impitoyable, cynique, voir parfois sadique. Elle aime la méritocratie et déteste tous ceux qui ne la juge pas selon ses compétences. C'est quelqu'un d'extrêmement intelligent et compétent qui n'hésite pas à utiliser toutes ses connaissances.
Viktoriya Ivanovna Serebryakov est le bras droit de Tanya. C'est une jeune femme plutôt timide qui n'ose pas d'imposer. Elle est en revanche très compétente et très gentille. Elle a énormément de respect pour Tanya et aime la seconder. C'est d'ailleurs la seule personne que Tanya apprécie réellement.
Scénario :
Notre héros est un salaryman japonais spécialisé dans les licenciements. Efficace et impitoyable, il effectue un travail remarquable. Jusqu'au jour où, après avoir licencié un homme, celui-ci le suis et le pousse devant le métro. Alors qu'il est sur le point de mourir, écrasé par le cheval de fer, un être omniscient fige le temps et interroge notre héros sur ses croyance en dieu. Celui-ci lui explique donc qu'en tant que Salaryman vivant dans un monde scientifique, ultra-moderne et en paix, l'existence de dieu était superficielle. Le dénommé être X décide alors de l'envoyer dans un monde où il serait une femme, où il serait pauvre, où la magie existerait et où le monde serait en guerre. C'est ainsi que notre protagoniste renaît en tant que Tanya von Degurechaff en plein empire impérial, avec tous ses souvenirs. Dans ce monde, elle est pauvre et se fera intégrer par l'armé à cause de ses compétences surprenante en magie. Un monde qui sombre petit à petit dans la première guerre mondial. Tanya parviendra-t-elle à vivre le plus longtemps possible grâce à ses compétences ? Parviendra-t-elle à vaincre l'être X, bien décidé à lui mettre des bâtons dans les roues ?
Ce scénario est très intéressant. Bien loin de l'idée de "loli nazi" qui tournait sur les réseaux sociaux, ce titre propose de voir la vie sous un point de vue très différents de celui des autres isekai. Il met en scène une histoire quelque peu améliorée tout en présentant le côté allemand (ce qui n'est jamais vraiment dit dans l'anime, mais que tout le monde comprend), très méritocratique. On découvre un point de vue volontairement occulté en France par l'éducation national et c'est très instructif. Mais ce n'est pas tout, car l'histoire est ponctuée d'apparition de l'être X qui relance le scénario en emmenant notre héroïne dans une psychologie toujours plus sombre. C'est un excellent scénario, très original et très intéressant.
Graphisme :
Nous sommes en 2017. Le niveau graphique est assez bon, même s'il faut soulever quelques problèmes. Le design général est particulièrement marqué. C'est d'ailleurs la même chose pour le design des personnages, notamment de l'héroïne, volontairement déformé par la colère et la haine. Il y a d'excellente scène de combat 3D mettant en avant la puissance de notre héroïne. Les trames de fonds sont très belles et de bonne qualités. Les scènes de discussion sont nombreuses, mais assez bien pensées pour ne pas trop plomber l'histoire.
L'opening JINGO JUNGLE du groupe MYTH & ROID marque assez bien les esprits et s'accorde bien avec l'univers de l'anime.
Point noir :
Tout d'abord, il y a assez peu de personnage vraiment principaux. Mais il y a paradoxalement beaucoup de personnages… Ce qui fait que l'on s'y perd assez vite.
Si certains combats sont très impressionnant graphiquement, d'autres et notamment ceux où Tanya n'est pas présente, sont à peine travaillé. Ça gâche vraiment les scènes, c'est dommage...
Conclusion :
J'ai apprécié Tanya The Evil. Il met en place un concept intéressant autour d'un point de vue assez peu commun d'un évènement mondialement connu. Il faut être réaliste et bien préciser que la majorité de l'intérêt de ce titre réside dans notre personnage principale. Je le conseille aux fans d'isekai originaux.