Inugami-san to Nekoyama-san
Inugami-san to Nekoyama-san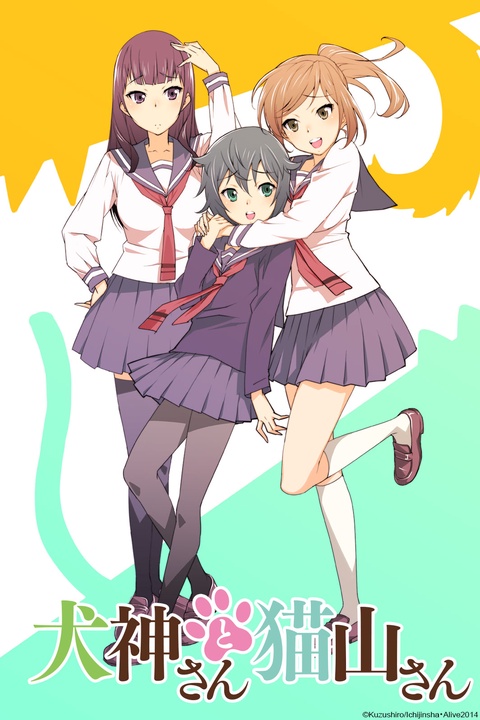 Article
Aujourd'hui on parle de Inugami-san to Nekoya-san !
La petite histoire :
C'est à l'origine un manga sorti entre 2011 et 2017 en 6 tomes et écrit par Kuzushiro sous le nom Inu & Neko. 4 tomes sur les 6 sont édités par Ototo, mais aucune news depuis 2017.
C'est un anime sorti en 2014 pour 12 épisodes de 3 min 30 et 1 épisode spéciale de 4 min. Il est licencié par Crunchyroll.
Personnage :
Inugami Yachiyo est l'héroïne de cette histoire. Amie d'enfance d'Akio, elle a une passion dévorante pour les chats. C'est une fille au caractère très enjoué, qui a un petit côté pervers et masochiste. Elle a tendance à s'emporter dès qu'on lui accorde trop d'attention. Son caractère est inspiré de celui d'un chien.
Nekoyama Suzu est la seconde héroïne de ce titre. Timide et plutôt solitaire, elle est souvent gênée par Inugami et se retrouve souvent avec un comportement très tsundere. Elle est bien plus mature qu'Inugami, mais s'emporte de temps en temps. Elle aime beaucoup les chiens. Son caractère est inspiré de celui d'un chat.
Hiragi Akio est la meilleure amie d'Inugami et dans la même classe que Nekoyama. Bien plus mature que les deux autres, elle voit clair dans leur relation et simplifie les choses à sa façon. C'est quelqu'un d'agréable et sociable.
Scénario :
Inugami et Nekoyama ne sont pas vraiment sur la même longueur d'onde. Mais si on dit "s'entendre comme chien et chat", on dit aussi que "les opposés s'attirent"... Jusqu'où leur relation ira-t-elle ?
C'est un yuri basé sur des personnalités d'animaux. Il en résulte une dynamique comique et rafraîchissante propre aux anime de ce format, bien trop court pour laisser place à l'ennui ou aux fautes de goût. Si le scénario n'est pas particulièrement complexe, loin de là, il en résulte des scènes de tranches de vie de lycéennes plutôt amusantes et distrayantes.
Graphisme :
Nous sommes en 2014. Le niveau est globalement bon, avec un bon chara design. Les trames de fond sont souvent très basiques, mais largement suffisantes au vu du format. Le rythme est très bien géré, donnant une très bonne dynamique au titre.
Point noir :
En dehors de son format qui peut laisser un peu sur sa faim, ce titre n'a pas vraiment le temps de développer des points noirs.
Conclusion :
Inugami-san to Nekoyama-san est un titre très sympathique qui plaira sans aucun doute aux fans et sympathisant de Yuri.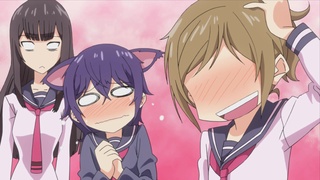 Date de dernière mise à jour : 21/07/2023