Parmi Eux
Parmi Eux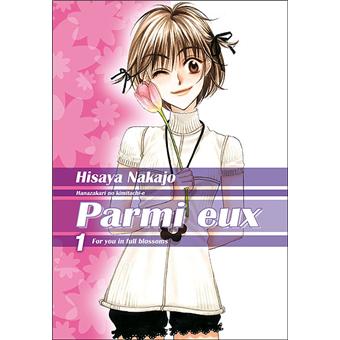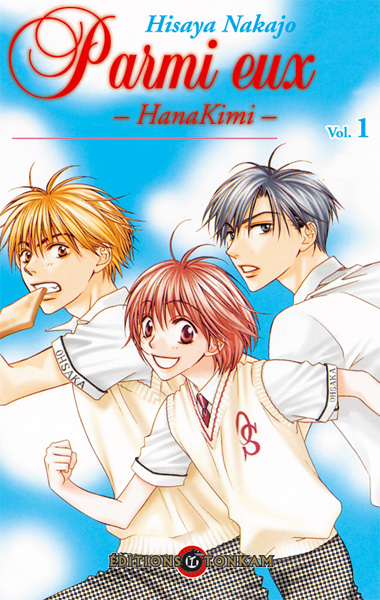 Article tome 1
On s'attaque aujourd'hui à Parmi Eux !
La petite histoire :
Ce manga est écrit entre 1996 et 2004 par Hisaya Nakajo, pour un total de 23 tomes dans la premières éditions et 12 dans l'édition deluxe, toutes deux publiées par Tonkam.
Entre 2006 et 2007, cette histoire a été adapté deux fois en drama Chinois, pour un total de 21 épisodes.
Le premier drama Japonais sortira en automne 2007 en 12 épisodes de 54 min sous le nom Hanazakari no Kimitachi e.
Un second drama Japonais sortira en 2011, en 11 épisodes sous le nom de Hanazakari no Kimitachi e 2011.
Enfin, un drama sud-coréen sortira en 2012 pour 16 épisodes sous le nom de To the Beautiful You.
A titre personnel, je possède le premier tome de la version Deluxe du manga.
Personnage :
Ashiya Mizuki est l'héroïne de cette histoire. C'est une fille au fort caractère qui est née au Japon, mais a grandi pendant plusieurs années aux états unis. Elle profite du fait d'être plate pour passer pour un garçon (mais nous y reviendrons). Mine de rien, c'est une fille plutôt féminine avec de véritables réactions de fille. Elle est sympathique et s'entend en général avec tout le monde. Elle s'attache très vite à Sano, qui est en quelque sorte son idole. J'aime beaucoup ce personnage, loin d'être cucul pour une héroïne de shojo.
Sano Izumi est un ancien champion de saut en hauteur qui a abandonné suite à un accident de la circulation, alors qu'il sauvait une de ses camarades. Il partage la chambre de Mizuki. C'est quelqu'un de discret, calme, intelligent et observateur. C'est sans doute le plus clairvoyant sur ce qui se passe. Il n'a pas peur du travail et fait beaucoup d'effort pour les autres. C'est quelqu'un de très agréable.
Nakatsu Shuichi est un des camarades de Mizuki et Sano. C'est un passionné de foot qui aime les ambiances détendu et pas particulièrement propice au travail. Toujours de bonne humeur, c'est quelqu'un qui aime aller vers les autres. Même s'il n'est pas très mature ou très réfléchi, il fait tout ce qu'il peut pour aider ses amis. Il est attiré physiquement par Mizuki, mais reste persuadé qu'il n'est pas gai. Il vient d'Osaka et a parfois le mal du pays.
Umeda Hokuto, infirmier du lycée, est un homme d'une 20ène d'année. Il assume totalement son homosexualité et n'hésite pas à jouer de dessus pour ajouter un côté comique à ses apparitions. Il se présente assez vite comme un allié de poids pour Mizuki. C'est quelqu'un d'intelligent qui semble avoir pas mal d'expérience en amour et qui comprend donc sans trop de problème ce qu'il se passe. Il est l'oncle du délégué des élèves : Nanba Minami et a peur de sa grande sœur. C'est un personnage excentrique, mais très intéressant.
Scénario :
Mizuki vit aux USA, mais décide de retourner pour le lycée dans son pays d'origine : le Japon. Son objectif : se retrouver dans le même lycée que Sano, un sauteur en hauteur dont elle trouve les sauts divins. Seulement, il se trouve que le lycée Ôsaka est un lycée de garçon. Elle décide donc de se travestir en homme (ce qui n'est pas trop compliqué grâce à son physique) pour se faire intégrer dans l'établissement. Mais les choses ne se passeront pas comme prévu, car non seulement elle rencontre Sano, mais elle se retrouve dans la même chambre que lui. Elle apprend alors qu'il a arrêté le saut en hauteur… De plus, son secret pourrait bien être en danger à cause d'un certain infirmier… Mizuki parviendra-t-elle à convaincre Sano de reprendre le saut tout en gardant son secret ?
Ce scénario est certes, un peu alambiqué, mais il n'en reste pas moins une excellente intrigue pour ce genre de shojo. La romance n'est pas amenée de façon directe, bien au contraire. Les relations et le cadres sont très travaillé, aussi bien sur Sano et Mizuki que pour les autres personnages. Il y a beaucoup de retournement, quelques petits quiproquo et quelques liens de romances possibles qui commencent à apparaître. C'est un excellent travail avec une construction lente, mais qui laisse parfois transparaître le fil rouge de l'histoire, entre romance et sport.
Graphisme :
Le niveau est très bon, surtout pour ce genre à cette époque. Le dessin est précis et les traits sont fins. Les trames de fonds sont peu nombreuses, mais généralement de bonne qualité. Le design des personnages, surtout principaux, est très bon. Les scènes de sport ne sont pas trop enjolivées, ce qui permet d'éviter de basculer dans le shonen. Les scènes comiques et l'utilisation du Chibi sont maîtrisées.
Ce shojo possède des caractéristiques très classiques. Rien de plus normal, puisqu'il a sans doute beaucoup influencé le genre, notamment par sa charte graphique et son design, très différents des shojo des années 80 ou 90.
Comme je l'ai dis, je possède la version Deluxe. Le papier est d'excellente qualité, la couverture est rigide et très belle, très rare pour un manga. Gros plus de cette version, il y a en plus un marque page intégré.
Point noir :
Pour moi, le seul véritable point noir de ce tome est que certains personnages principaux ressemblent vraiment beaucoup aux figurants, ce qui les difficiles à identifier dans certaines scènes. Enfin, si on en croit ce manga, la plupart des japonais son châtains ……
Conclusion :
J'ai beaucoup aimé Parmi Eux. C'est un excellent shojo qui a laissé une trace dans son propre genre en proposant un scénario original, un dessin agréable et un quiproquo sur les genre très intéressant. Il est très actuel et la version Deluxe particulièrement agréable à lire. Je conseille vraiment ce manga aux tous et toutes les fans de shojo.
Date de dernière mise à jour : 11/10/2020