Just Not Married
Just Not Married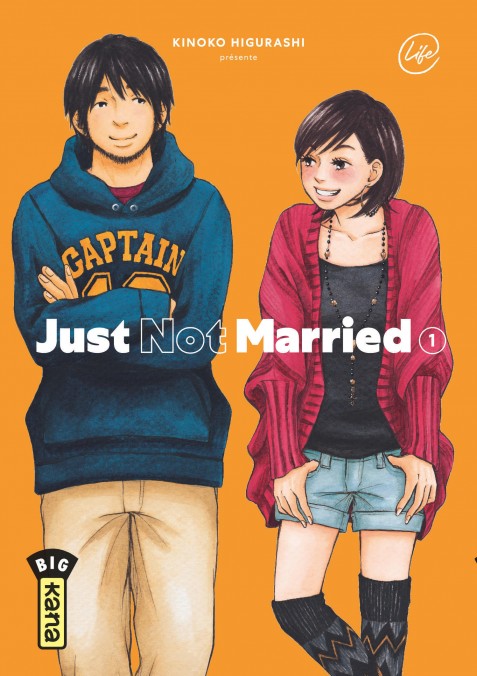 Article tome 1
Aujourd'hui on parle du manga Just Not married !
La petite histoire :
C'est un manga écrit entre 2012 et 2015 par Higurashi Kinoko pour 5 tomes édités en France par Kana.
Dans son nom original, la série se nomme Kû Neru Futari Sumu Futari.
Personnage :
Ritsuko est la première héroïne de ce titre. Jeune femme sérieuse et rigoureuse, elle aime prévoir les choses à l'avance et contrôler ce qui se passe autour d'elle. Malgré tout, elle aime les idées romantiques et les surprises de Non-chan. Quelque peu complexée par sa faculté à séduire, elle aimerait parfois que Non-chan soit un peu plus possessif.
Non-chan, de son vrai nom Shûichi, est le second héros de ce titre. Jeune homme de nature calme et posée, c'est quelqu'un qui préfère vivre à son rythme. Pas particulièrement doué en communication, il a souvent du mal à faire comprendre ce qu'il pense. S'il peut paraître un peu pantouflard, c'est en fait quelqu'un de très stable. Il est extrêmement fier de Ritsuko.
Scénario :
Ritsuko et Non-chan sont en couple depuis maintenant 10 ans et vivent ensemble depuis 8 ans. Mais depuis quelques temps, leur entourage semble s'intéresser à une question en particulier : "Alors, c'est pour quand ?". Quand est-ce que ce couple passera le pas du mariage ? Mais pourquoi se marier si c'est juste parce que les autres le veulent… Qui n'a jamais rêvé de comprendre les soudaines sautes d'humeur, d'incompréhension, les crises ou les réflexions de l'autre ?
Ce titre est vraiment très intéressant du point de vue de sa construction. En effet, contrairement à la plupart des œuvres sur le sujet, celui-ci nous présente le même chapitre sous le point de vue de nos deux personnages : une excellente occasion de réfléchir sur les différents points de vue et quiproquo d'un couple. En plus du côté slice of life du titre avec la vie de nos deux protagonistes, nous aurons aussi l'occasion de partager le point de vue d'autres personnages ne rendant le titre que plus passionnant. Les personnages sont particulièrement attachants et évoluent à leur rythme. C'est vraiment un excellent concept.
Graphisme :
Nous sommes en 2012. Le niveau graphique est plus que respectable. Le design est assez mature, poussant directement le titre dans le genre josei, surtout par rapport à son année de sortie. Le charadesign fonctionne très bien, nous proposant des personnages réalistes et simples. Les trames de fonds sont étonnamment très travaillées. Il y a assez peu de trame et l'ensemble est assez sobre, mais le tout est très bien maîtrisé. Le rythme est assez unique, puisque nous vivons les mêmes événements deux fois de suite, sous deux points de vue différents. Quoi qu'il en soit, c'est très agréable et les pages défilent à une vitesse impressionnante.
La couverture est simple, mais efficace. La couverture cartonnée l'est tout autant, mais le petit jeu des personnages est sympathique.
Point noir :
C'est un slice of life discret et doux qui ne conviendra pas aux fans de shojo plus dynamiques.
Conclusion :
J'ai vraiment adoré Just Not Married. Ce titre donne matière à réflexion et à discussion, c'est vraiment passionnant. Je le conseille très fortement aux fans de Josei slice of life.