Rose Noire
Rose Noire
Article
On parle aujourd'hui d'un groupe japonais qui a fêté l'année dernière ses 10 ans : Rose Noire !
Rencontre et Parcours :
Tout commence avec la rencontre de Louie et Jill, alors qu'ils sont encore à l'université nationale des beaux arts de Tokyo, qui se finalisera par la création du groupe en 2008, soit il y a aujourd'hui plus de 10 ans. Tout de fois, les deux avait déjà travaillé ensemble l'année précédente pour produire une demo : Bouquet de Roses, qui avait obtenu le prix du "SONY-ZOOM Démo tape competition".
Ils sortent leur premier single Bouquet de Rose, ainsi que plusieurs pistes téléchargeable gratuitement sur leur site officiel, tout en faisant quelques concerts jusqu'en 2010, où ils entrent dans le label Darkest Labyrinth. Alors qu'ils sont nouveaux dans le label, leur chanson Alert parvient tout de fois à figurer dans la compilation Darkest Labyrinth Vol. 2, Rose Noire est même présent pour quelques concerts, ainsi que dans l'événement principale du label. Le 1er Décembre 2010, le groupe sort son premier album officiel : Apocalypse.
La vie du groupe continuera tranquillement jusqu'au 2 Novembre 2013 où le groupe jouera son premier concert solo sobrement intitulé : Palais de Noir. Ce concert se tenait à Ikebukuro CYBER, dans la ville de Tokyo.
Depuis, le groupe sort des chansons assez régulièrement (nous y reviendrons), même si Jill est entrée en 2014 dans le groupe Hollow Mellow, sans tout de fois quitter Rose Noire.
Discographie :
Depuis sa création, le groupe a fait naître 5 albums :
Apocalypse - 01/12/2010
Apocalypse (The Resurrection of Notes) - 04/12/2013
Quo Vadis - 27/07/2016
Principle: The Best - 25/01/2017
Lucid Nightmare - 24/01/2018
ainsi que 3 EPs officiels :
Le Paradis de la Psychose - 18/05/2011
Neo Renaissance (1st Movement) - 25/07/2012
Neo Renaissance (2nd Movement) - 12/12/2012
Sanctuary - 21/01/2015
Son et Image :
Ce groupe est constitué de deux personnes : Louie et Jill. Le premier est le chanteur principal, ainsi que le programmateur et arrangeur des morceaux, dont il est le compositeur principal. C'est en plus de cela le producteur des albums du groupe. Il joue également du violon. Il est accompagnée de la jolie Jill, la violoniste qui joue l'instrument lead du groupe. Si elle n'est pas très présente pendant la composition, c'est elle qui s'occupe des sites web, de l'image du groupe, des clips… Bref, de tout ce qui est graphique. Mine de rien, elle a gagné plusieurs concours de musique classique un peu partout dans le monde.
Vous l'aurez remarqué, ce groupe est japonais, mais la langue française est omniprésente. En effet, Rose Noire profite de la faille laissé par les anime et autre contenu basé sur l'époque victorienne ou le XIXème pour baser ses compositions et son image sur l'époque Rococo Française. Mais ce n'est pas le seul aspect, car on retrouve dans ce groupe tout ce qui est Gotic, plutôt populaire au soleil levant, surtout par le biais des Lolita Gotic, dont Jill fait une magnifique représentation. Dans un thème proche, on remarque aussi l'omniprésence de thème très sombre, tel que la mort ou les problèmes psychologiques.
Musicalement, ce duo produit des chansons basée sur une ligne de violon, décoré de notes synthétique, le tout pour un rendu se rapprochant dans l'esprit à la musique classique un peu pompeuse de chez nous, mais bien dépoussiéré. Le groupe n'hésite pas à y rajouter des sons bien plus proche du Metal Industriel, que du néo-classique. Tout est bien dosé, si bien que les éléments musicaux, notamment tout ce qui est son synthétique, s'accorde parfaitement avec l'instrument lead sans fixer des temps déterminant, contrairement à la techno made in France. Les morceaux ont beaux rester dans un univers proche, ils sont tous très originaux et très différents les uns des autres. Dernier aspect : la voix de Louie donne un ton vraiment très particulier aux compositions, me rappelant au passage la façon de chanter de Gackt, et évoquant une fois de plus la France Victorienne.
Conclusion :
Rose Noire est un groupe de Néo-classique japonais qui fait le lien entre l'époque Rococo française et le monde Lolita Gotic du Japon. Les compositions sont profondes et harmonieuses, tout en gardant l'âme du groupe intacte. Je conseille vraiment ce groupe à ceux qui apprécieront leur style musicale.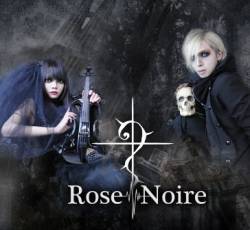 Date de dernière mise à jour : 27/01/2019