Wolf Girl & Black Prince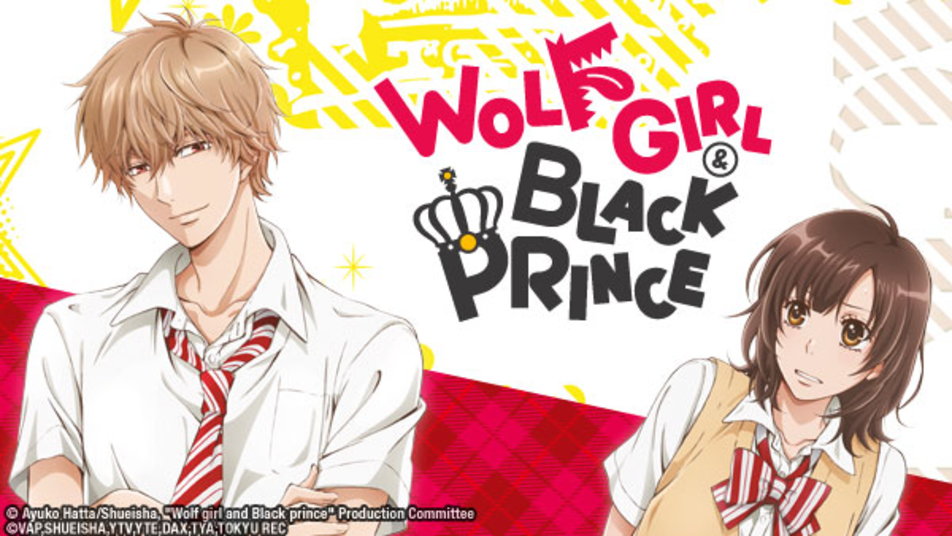 Article
On s'attaque aujourd'hui au shojo : Wolf Girl & Black Prince.
La petite histoire :
Cette série est plus connu sous le nom Wolf Girl & Black Prince, ce qui est fait la traduction littéral du nom japonais : Ookami Shôjo to Kuro Ôji.
C'est à l'origine un manga écrit par Hatta Ayuko entre 2011 et 2017 pour un total de 16 tomes publiés en France chez Kurokawa.
L'anime est sorti en 2014 et compte 12 épisodes. Il est licencié en France par ADN.
Un OAD est sorti en 2015 et dure 30 minutes, mais il n'est pas licencié en France.
Un film LIVE est sorti en 2016 et dure 1 heure 56.
Personnage :
Shinohara Erica est l'héroïne de cette histoire. A 16 ans, son plus grand cauchemar est de se se retrouver toute seule pendant les cours. C'est la meilleure ami de Sanda, à qui elle se raccroche quand elle a des problèmes. Elle a tendance à mentir pour améliorer la vérité et ne recule devant rien pour sauver les apparences. Elle est plus ou moins amie avec Tachibana et Tezuka et s'entend bien avec Takeru.
Sata Kyôya est le héros de cette histoire. C'est un lycéen de 17 ans particulièrement populaire, mais qui ne sort jamais avec personne, car il trouve que c'est une perte de temps. Extrèmement mielleux en société, c'est en faite un sadique notoire qui aime jouer avec les gens. Il aime beaucoup les chiens. C'est quelqu'un d'assez froid qui a des relations conflictuels avec le reste de sa famille.
Sanda Ayumi est la meilleure amie d'Erica. C'est une fille intelligente, calme et posée. C'est vraiment dommage qu'elle ne soit pas très présente.
Tachibana Marin est une camarade de classe d'Erika. Elle est obnubilée par son copain, qui est son principal sujet de conversation, ce qui la rapproche de Tezuka.
Tezuka Aki est une camarade de classe d'Erika. Passionnée par son copain, elle ne parle que de lui, ce qui la rapproche de Marin. On sent tout de fois un potentiel chez ce personnage.
Hibiya Takeru est le meilleur ami de Kyôya. C'est quelqu'un d'énergique et d'un peu simplet, mais qui a un très bon fond et qui aimerait voir son ami s'épanouir. Il est très fière de ses abdos, qu'il exhibe quand ça lui chante. Il est très jovial.
Je vous passe les autres personnages, vous les découvrirez bien assez tôt.
Scénario :
Erica arrive en retard pour sa première journée de lycée. Par peur de se retrouver toute seule, elle sympathise avec Tachibana et Tezuka, qui ne parle que de leurs copains. Pour s'intégrer, Erica invente un petit ami, mais sa couverture risque de tomber à tout moment. En urgence, elle prend un garçon en photo dans la rue et le présente comme étant son petit ami. Seulement, ce garçon n'est autre que Kyôya, le prince du lycée. Celui-ci l'apprend et décide de jouer le jeux avec notre jeune fille louve. En échange de jouer son petit ami en public, il la fait chanter pour qu'elle devienne son chien en privé. Erica accepte et nos deux héros commencent un jeu où les ordres et le sadisme se mêlent aux sentiments. Mais Kyôya est un manipulateur et n'est pas si facile à obtenir. Erica réussira-t-elle à suivre la voie de l'amour, d'autant plus qu'elle est convoitée dans l'ombre par plus d'une personne ?
Que tout le monde se rassure, ce n'est pas du tout un anime SadoMaso, loin de là. Si le début de l'histoire part vraiment en comédie romantique, la suite a tout d'un shojo classique. On trouve tout de fois plusieurs côté intéressant, puisque notre prince ne veut aucune relation et qu'Erica est désirée par plusieurs personnes. Mais trouvera-t-elle la clé pour ouvrir le cœur de son "maître" ? Bon, ce n'est pas l'œuvre du siècle, mais les relations évoluent beaucoup, tout comme les personnages. La conclusion de l'anime est loin d'être mauvaise.
Graphisme :
Bon, pour l'époque c'est tout juste bon. Si certains personnages, notamment masculins, sont énormément travaillés, il faut être réaliste : les filles ont un design plutôt banal. Les trames de fonds sont assez simplistes, mais de bonne qualité, tout comme les figurants. Il y a très peu d'effet visuel à la mode shojo, ce qui casse vraiment le côté niais qu'on trouve dans beaucoup d'œuvre du genre.
Les OST n'ont rien de particulier, mais l'Opening et l'Ending sont vraiment très bon, aussi bien musicalement que graphiquement.
Point noir :
Bon, déjà le titre qui sonne un peu Sado-Maso n'aide pas à vendre l'anime au bon type de public.
Si il y a pleins choses intéressantes dans cet anime, il n'a pas de profondeur particulière, ni aucun point que le rend exceptionnel.
Conclusion :
Ookami shoujo to Kuro ouji est anime shojo agréable à regarder. Il présente une romance intéressante avec un scénario plutôt original. Je le conseille aux fans de shojo qui veulent changer un peu du schéma classique.
Date de dernière mise à jour : 06/03/2019