Sword Art Online : Alicization - War of Underworld
Sword Art Online : Alicization - War of Underworld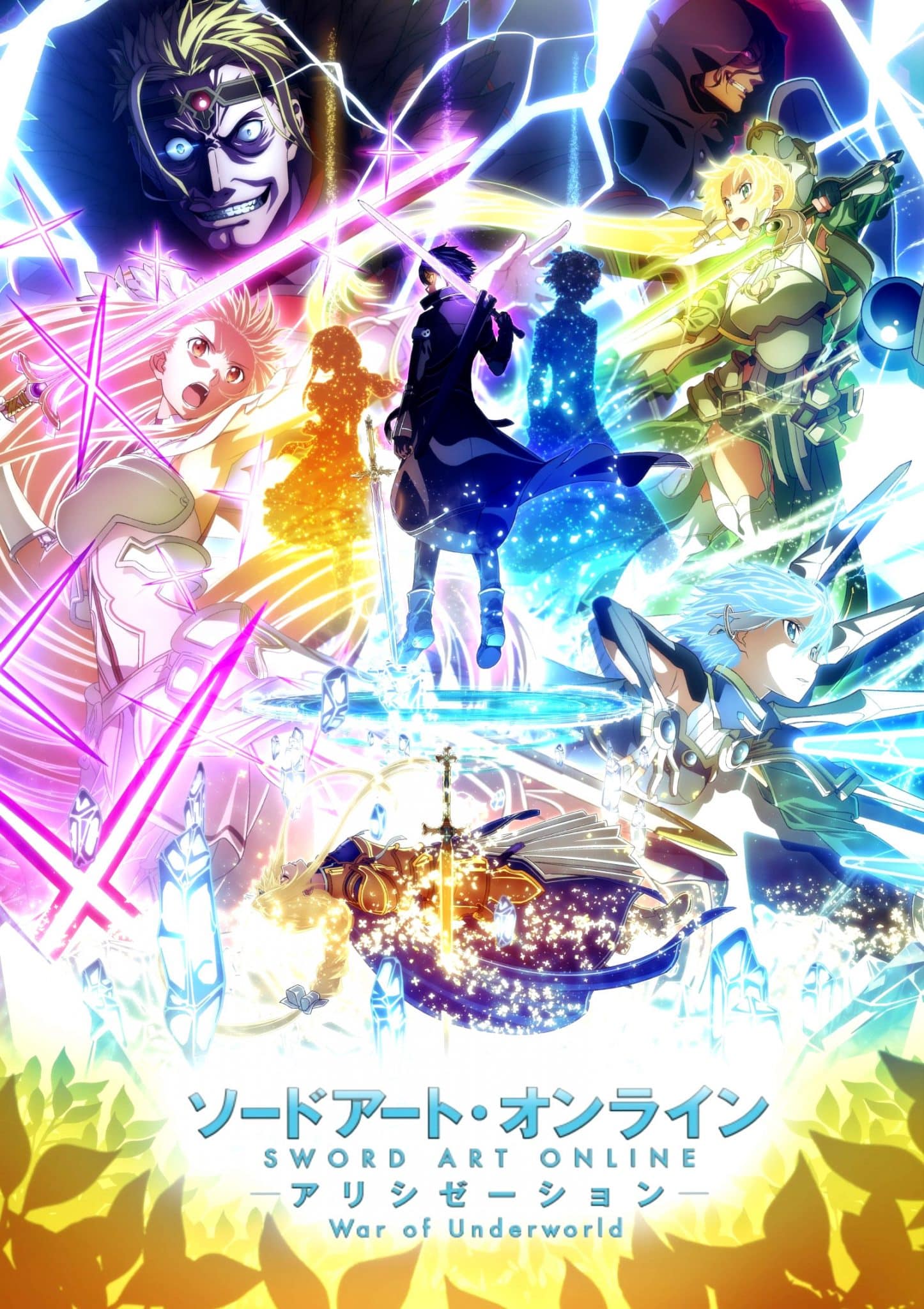 Article
Aujourd'hui on s'attaque à la dernière saison anime de Sword Art Online !
La petite histoire :
Cette saison, Sword Art Online : Alicization - war of underworld est sortie en 2 parties. La première est sortie en 2019 pour 12 épisodes. La seconde partie en 11 épisodes est sortie en 2020, le tout chez Wakanim et @Anime.
Scénario :
Dans la saison précédente : Après environ 2 ans passés dans le monde de l'underworld, Kirito, accompagné de son nouvel ami Eugeo, progressent dans leur maniement des armes. Mais au terme d'un évènement malencontreux, Kirito en vient à désobéir aux ordres ultimes auxquels sont soumis tous les humains. Aussitôt pourchassé, il décide de partir avec Eugeo récupérer Alice et libérer l'humanité de l'Administrator, celle qui est à la tête de ce monde. Au terme de combats particulièrement justes, Alice parvient elle aussi à se libérer des règles tandis que Kirito et Eugeo se hissent jusqu'au dernier étage de la tour centrale et affrontent Alice. Au terme du combat, Administrator est vaincu, mais Eugeo s'est sacrifié. Kirito parvient à entrer en communication avec Rath, l'entreprise qui l'a envoyé dans ce monde, mais un incident se produit et sa fluctlight est endommagée.
Malgré la mort de l'Administrator, le calme est revenu sur l'underworld. Incapable de bouger, Alice à pris en charge Kirito et s'occupe de lui depuis déjà quelques mois, à l'écart des autres chevaliers. Mais la porte qui sépare le monde des ténèbres du monde des humains est sur le point de céder… Parviendront-ils à protéger le monde des hommes ?
Dans le monde réel, la base où est enfermé Kirito est attaquée par des forces armées américaines. Rath parviendra-t-elle à les repousser sans perdre leurs données de recherche ? Que se cache-t-il donc derrière ce projet ?
Un scénario avec deux trames bien séparées dans deux espaces temporels bien distincts. La coupure avec la saison précédente est assez brusque, pour ne pas dire violente. Le lien est assez compliqué à faire, d'autant qu'il est très différent du scénario développé dans le jeu sorti entre temps. Le développement de l'univers est mis en avant, mais celui des personnages prend un coup. On aurait pu s'attendre à changer de héros pour une quête héroïque avec Asuna ou Alice, mais il n'en est rien. La question est donc : que faire de ces 23 épisodes ? Un enchevêtrement d'événements dans chacune des deux trames. Si le scénario se tient sans problème, il faut admettre que son exécution et son rythme sont assez désaxés et laisse un sentiment de lenteur sans les moteurs principaux de la saga. De plus, la conclusion est très très ouverte, laissant un énorme point d'interrogation quant à l'avenir de la série dans ce format.
Graphisme :
Nous sommes en 2019 et 2020. Pour son année, le niveau est bon. Le design de Alicization est conservé, même si le scénario lui permet de prendre une teinte bien plus sombre. Nous en avions déjà parlé, mais le rythme est malheureusement et étonnamment lent voir trop lent.
Point noir :
La transition entre les deux saisons à été compliquée, surtout que ça faisait plusieurs années que je n'avais pas raccroché la série.
Le rythme, dut en partie à l'état végétatif du héros, est ennuyant. Ce n'est pas qu'il ne se passe rien, c'est juste que nous n'avons plus véritablement de héros.
Les performances de la 3D ne sont toujours pas meilleurs que dans la saison précédentes. Elles sont toutefois mieux justifiées par le scénario.
Les OST sont encore une fois trop souvent les mêmes, là où un peu de changement aurait fait du bien.
La dernière partie prend un virage assez brusque, puisqu'elle s'oriente vers un contenu bien plus violent que précédemment. Un virage pas nécessairement justifié par le scénario et qui sent un peu le fan service, faute de pouvoir y insérer du ecchi.
La trame réelle est parfois assez compliquée à suivre.
Conclusion :
Sword Art Online Alicization War of Underworld signe peut être la dernière saison anime de SAO. Globalement bon et graphiquement sans vrai défaut, il marque toutefois par son manque de réalisation. J'ai toutefois passé un bon moment, ce qui devrait être également le cas des fans de la saga.