Netojuu no Susume
Netojuu no Susume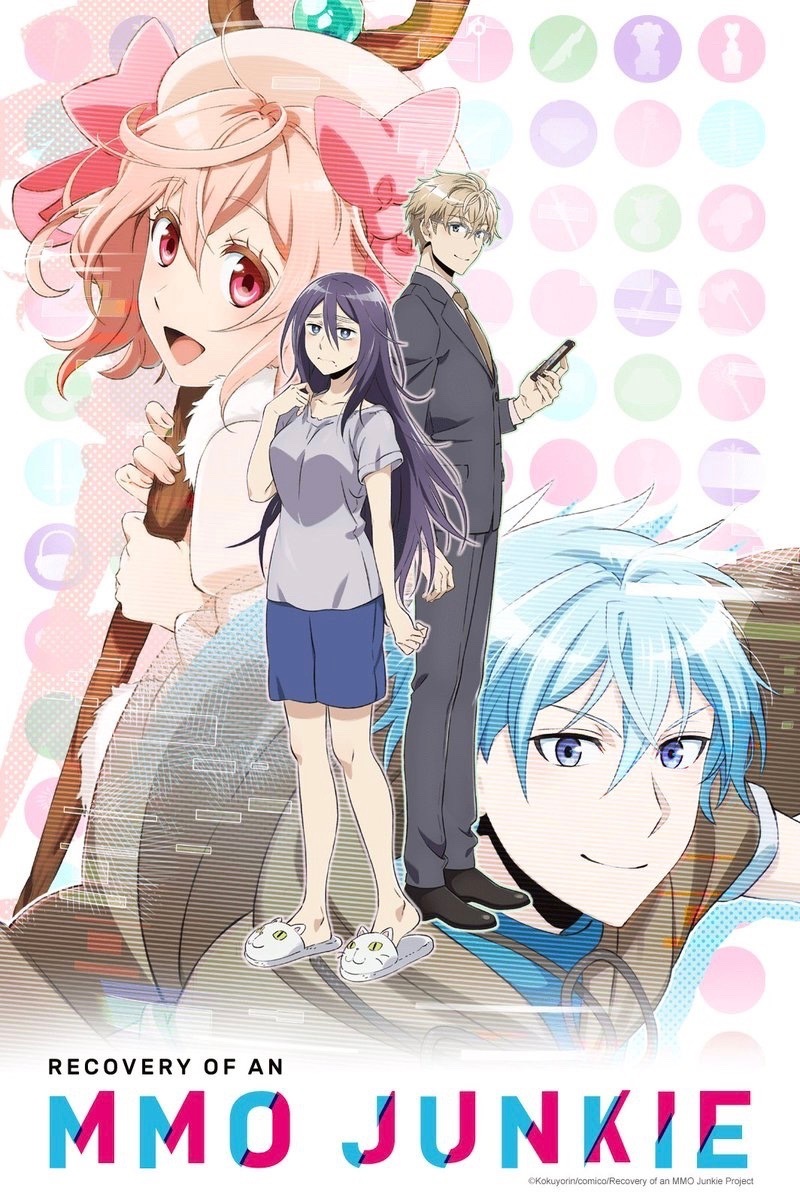 Article
Aujourd'hui on parle de l'anime Netojuu no Susume.
La petite histoire :
C'est à l'origine un manga écrit par Kokuyo Rin en 2 tomes et sorti en 2015. Il semble avoir été stoppé par la suite.
L'anime qui nous intéresse est sorti en 2017 et compte 10 épisodes et 1 OAV. Il est licencié par Crunchyroll.
Cette saga possède différent nom : Net-juu no Susume : Recommendation of the Wonderful Virtual Life ou encore Recovery of an MMO Junkie.
Personnage :
Morioka Moriko est l'héroïne de ce titre. C'est une femme de 30 ans devenu NEET après avoir démissionné d'une société qui l'exploitait malgré ses excellentes compétences. C'est quelqu'un qui a tendance à négliger l'IRL pour se concentrer sur le monde des MMO, ce qui représente la quasi-totalité de ses intéractions sociales. In Game, elle a fait le choix de jouer un homme du nom de Hayashi et aime jouer le jeu jusqu'au bout. Si elle a un côté antisociale, c'est avant tout quelqu'un de particulièrement timide. Elle est un petit peu maladroite et a souvent du mal à tirer des conclusions. C'est un personnage que j'apprécie.
Sakurai Yûta est le second protagoniste de ce titre. Salaryman de 28 ans, c'est quelqu'un de sérieux et d'efficace. Il met beaucoup d'énergie dans son travail et n'a que très peu de liens sociaux en dehors de son collègue Koiwai. Si c'est quelqu'un de très occupé, c'est aussi un grand timide qui comprend vite les choses, mais n'ose pas toujours y croire. Là encore, c'est un personnage que j'apprécie beaucoup… Peut-être parce que je me reconnais un petit peu en lui ?
Lily est un personnage que rencontre Hayashi dans le MMO Fruit de Mer. C'est une jeune fille pleine d'énergie qui aime venir en aide aux autres. C'est un personnage très rafraîchissant qui peut toutefois agir parfois de façon impromptu.
Kanbe est le maître de la guilde dont font partie Hayashi et Lily. Mature et sérieux, il connaît beaucoup de détails sur la vie des membres de la guilde et fait ce qu'il peut pour les conseiller. Il s'inquiète beaucoup pour eux et essaie tant bien que mal de jouer le rôle du garant de la limite entre le MMO et l'IRL. C'est quelqu'un de très agréable.
Koiwai Homare est le collègue de travail et ami de Sakurai. A 32 ans, il possède une énergie débordante malgré son poste important et ses responsabilités. Il aime se mêler de ce qui ne le regarde pas et n'hésite pas à jouer les sournois pour obtenir ce qu'il veut. Il connaît Morioka Moriko et l'a soutenu quand elle travaillait encore. Derrière son comportement souvent particulièrement énervant se cache en fait quelqu'un de profondément gentil.
Scénario :
Morioka a renoncé à l'IRL et décide de se replonger dans un de ses MMO favoris. Mais cela fait tellement longtemps qu'elle n'avait pas joué qu'elle se retrouve là, presque seule, le dernier jour avant la fermeture des serveurs. Dépitée, elle cherche un nouvel endroit où faire disparaître son temps et son argent et se lance au hasard dans Fruit de Mer, un nouvel MMO. Alors qu'elle se lance à corps perdu dans l'aventure, elle fait alors la rencontre de Lily, qui décide de l'aider à vaincre un boss. Et c'est ainsi qu'une longue amitié débutera… Mais le virtuel est-il si loin du réel ? Morioka osera-t-elle briser son image in game avec son image IRL ?
Ce titre est une douce comédie romantique qui joue sur une dualité IRL / In Game, mais aussi sur la frontière de l'amitié homme / femme. Le filtre du MMO permet d'ajouter une couche de quiproquo par dessus le tout, rendant l'ensemble amusant et très agréable. Le tout est très bien timé avec une conclusion qui n'est certes pas éclatante, mais très bien dans le ton du titre.
Graphisme :
Nous sommes en 2017. Pour son année, la qualité graphique est moyenne, voire basse. Les finitions sont trop souvent laissées de côté au prix d'un design coloré et éclatant. Les trames de fond sont simples et très souvent les mêmes. Toutes les parties qui auraient pu demander une attention graphique particulière sont passées en comique ou utilisent du chibi. Le charadesign est agréable, mais il ne présente rien de particulièrement original pour l'époque. Les quelques scènes sentimentales sont bien réalisées.
L'opening est sympathique, tout comme les OST, mais l'ensemble reste assez discret.
Point noir :
L'aspect graphique est très clairement mis de côté pour se concentrer sur le scénario.
Conclusion :
Netojuu no Susume est un titre que j'ai beaucoup apprécié, et ce malgré sa piètre qualité graphique. Les timings sont bien choisis, la comédie romantique est douce et agréable et nos personnages sont très attachants. Je conseille ce titre à ceux qui recherchent des anime feel good.