Mikakunin de Shinkoukei
Mikakunin de Shinkoukei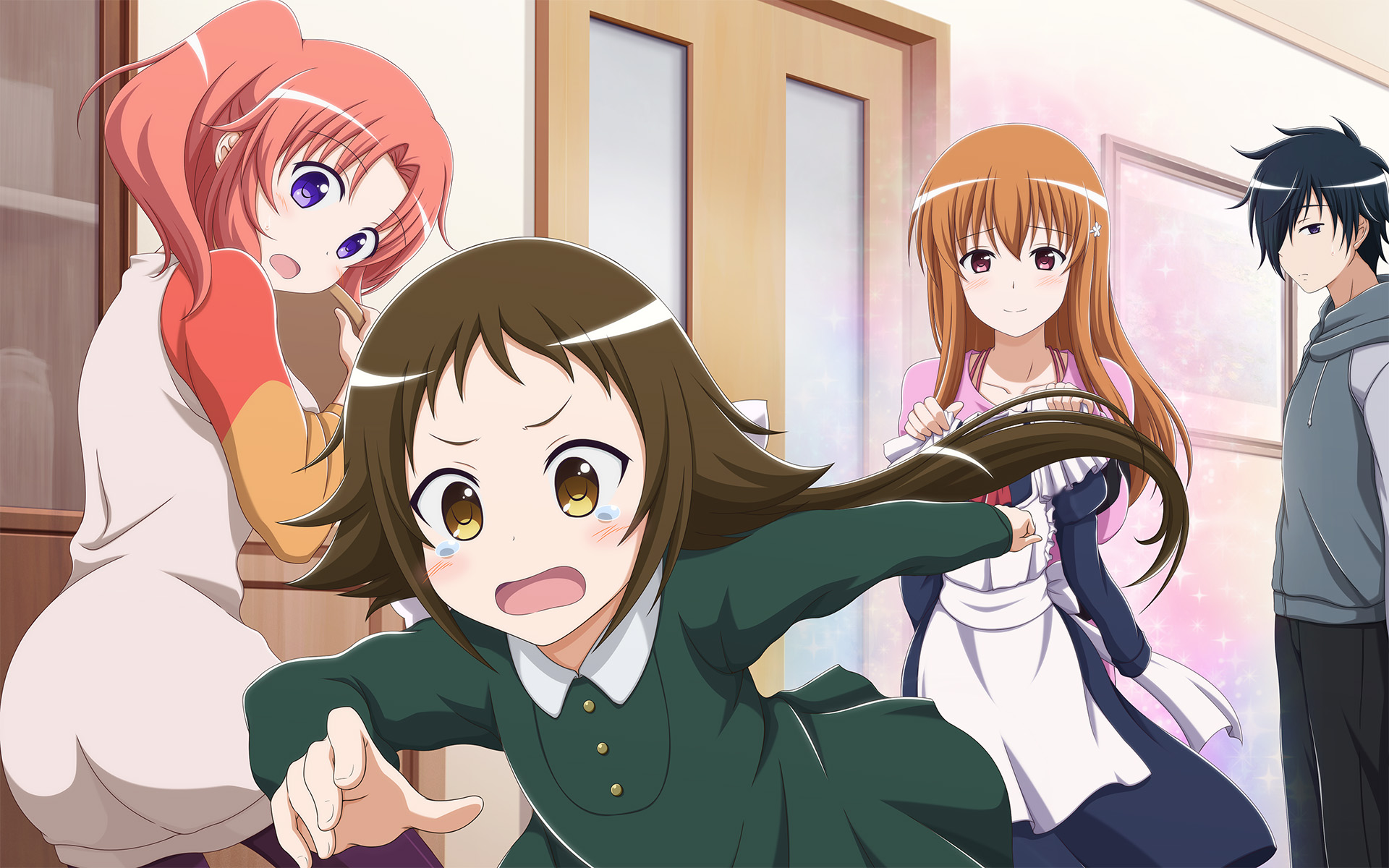 Article
On parle aujourd'hui d'un anime qu'on retrouve souvent dans les bas fond d'internet : Mikakunin de Shinkoukei !
La petite histoire :
C'est à l'origine un manga écrit par Cherry-Arai depuis 2009 et toujours en cours avec 9 tomes.
L'anime est sorti en 2014 et compte 12 épisodes et 2 OAV de 10 minutes, sortis la même année.
Cette série est aussi connue sous le nom Engaged to the Unidentified.
Personnage :
Yonomori Kobeni est le personnage central de cet anime. C'est une lycéenne de 1re année qui vit avec sa mère et sa sœur. Suite à un accident quand elle était petite, elle a accidentellement lié son destin à celui d'Hakuya et en a été informé à ses 16 ans. C'est une fille logique, agréable et volontaire, qui s'occupe souvent de toutes les tâches ingrates. Elle vit beaucoup dans l'ombre de sa grande sœur Benio, qu'elle prend pour modèle de réussite malgré son caractère. Elle n'est pas particulièrement douée sentimentalement, mais est particulièrement gentille et attentionnée. C'est un personnage que j'aime beaucoup.
Mitsumine Hakuya est le "héros" de cette histoire. Fiancé de Kobeni, c'est quelqu'un de calme et stoïque. Il parle peu, réagit peu et se laisse souvent faire. Il est très attaché à sa petite sœur Mashiro et à Kobeni, avec qui il est plutôt protecteur. C'est un personnage passif, mais agréable.
Yonomori Benio est l'aînée des Yonomori. Douée, belle, intelligente, populaire, elle est la présidente du conseille des élèves et une excellente élève. Le seul et unique domaine dans lequel sa soeur la bas est le tour de poitrine. C'est une fille excentrique et obsessionnelle qui est particulièrement jalouse et collante. Lolicon et presque siscon, elle n'entre pas beaucoup en communication avec Hakuya, mais harcèle tant que possible Mashiro. Elle n'aime pas tout ce qui est romantique et est du genre jalouse. C'est une fille au comportement lourd, surtout pour ceux à qui elle s'attache.
Mitsumine Mashiro est la petite sœur d'Hakuya. Elle a 10 ans, mais essaie de se faire passer pour une lycéenne. Elle est très protectrice avec son frère et l'accompagne partout pour l'aider et lui dire quoi faire. Elle est plutôt mature pour son âge malgré un petit côté tsundere et des passes temps de son âge. C'est un personnage amusant et au final très attachant.
Scénario :
Le jour de ses 16 ans, Kobeni apprend qu'elle est fiancé au garçon qui l'a sauvé quand elle était petite : Hakuya Mitsumine. Peu de temps plus tard, il débarque chez eux avec sa petite soeur, au grand plaisir de Benio. Un cohabitation des plus divertissante va alors commencer… Benio a l'intention de garder sa petite sœur et Mashiro pour elle toute seul, arrivera-t-elle à ses fins ? Hakuya parviendra-t-il à surmonter son tempérament passif pour créer une romance avec sa fiancée ? Mais la situation pourrait bien se compliquer encore à cause d'un secret bien caché de la famille Mitsumine...
L'histoire en elle même n'est pas particulièrement compliqué. Tout de fois, son développement est pensé de façon à en sortir des situations comiques, de quiproquo ou moe. La relation entre Hakuya et Kobeni, ainsi que leur évolution à tous les deux, est très intéressante.
Graphisme :
Pour son année, le niveau graphique est plus que correct grâce à son design très agréable. Le design des personnages est très bien pensée, ce qui explique qu'on retrouve souvent ces personnages un peu partout sur le net. Les quelques scènes de fan services et de chibi sont bien réalisées.
L'opening : Tamadoi->Recipe de Mikakunin! (groupe constitué des principales seiyu de l'anime) et l'ending : Mashiro World du même groupe sont très originaux et bien pensé au niveau de l'animation. Ils participent en grande partie à la renommé de cet anime. Les OST sont également très bons.
Point noir :
Cet anime n'est pas licencié en France probablement à cause du côté lolicon du personnage de Benio…
Conclusion :
Mikakunin de Shinkoukei est un excellent anime comique qui mêle sentiment et humour avec des personnages originaux et intéressants. C'est sans conteste un classique à la Lucky Star que je conseille à tout otaku qui se respecte.