Asobi ni Iku Yo
Article
On parle aujourd'hui d'un anime dont on croise quelquefois les visuels : Asobi ni Iku Yo !
La petite histoire :
C'est à l'origine un Light Novel écrit par Okina Kamino entre 2003 et 2015 pour un total de 17 volumes.
Une adaptation manga dessiné par 888 est sortie en 2006 et compte à ce jour 8 tomes. Elle est officiellement toujours en cours.
L'anime dont nous parlons aujourd'hui est sorti en 2010 et compte 12 épisodes.
Il est suivie d'un OAV de 28 minutes et d'un court épisode spécial en 2011.
Asobi ni Iku Yo signifie "Nous arrivons pour jouer". Cette série est aussi connu sous le titre Bombshells from the Sky.
Personnage :
Kio Kakazu est le héros de cette histoire. C'est un jeune lycéen ordinaire et qui est reconnu comme un otaku. C'est quelqu'un de paisible et d'assez passif dans ce qui se passe autour de lui. Il en faut beaucoup pour l'étonner. Pour une raison étrange, toute les filles le trouvent mignon. Il a tout de fois un sens de la responsabilité qui le pousse à vouloir apprendre à se battre pour défendre ses amies. Ce n'est pas un personnage très important dans l'histoire.
Eris est un personnage central de cette histoire. C'est une extraterrestre qui vient de la planète Catia et qui possède des nekomimi et une queue tout droit sortie d'une convention otaku. C'est une fille mignonne et très vivante venue sur terre pour s'amuser et récupérer des informations. Mine de rien, elle est bien plus profonde qu'elle en à l'air. Elle se pose beaucoup de question sur sa mission et sur le passé de sa race. En dehors de ça, c'est une fille joyeuse et expansive. Elle ressemble pas mal à Lala de To Love Ru de ce point de vue, surtout qu'elle n'est pas vraiment pudique et qu'elle peut avoir une force terrible.
Aoi Futaba est une camarade de classe de Kio. C'est une fille calme et très timide dans la vie courante, qui est amoureuse de Kio, mais n'ose pas l'aborder. Tout de fois, elle travaille en tant qu'agent spécial et possède le pouvoir de téléporter des objets. Après avoir été abandonné par sa famille, elle est devenue une tueuse sans pitié. C'est une excellente combattante au corps à corps. C'est mon personnage préféré dans cette série.
Manami Kinjô est une amie d'enfance de Kio. Amoureuse de lui depuis toujours, elle reconnait qu'elle est resté trop longtemps à attendre quoi que ce soit et décide donc d'aider Aoi. Elle connaît tout de Kio, notamment en utilisant son matériel de la CIA, où elle est apprentie. C'est une fana des armes à feu. Elle a un caractère plutôt brute, mais ce n'est que pour cacher ses sentiments. Elle est un peu jalouse d'Eris, car celle-ci est toujours avec Kio, qu'elle a plus de chance de le séduire avec son apparence et qu'elle a des plus gros seins qu'elle.
Antonia est la chef d'une secte consacrée aux nekomimi. Elle est parfois un peu excessive, mais c'est une fille sympathique qui fera tout pour aider Eris et Kio. Elle est multi-milliardaire.
Yûichi Miyagi est l'oncle de Kio. On ignore beaucoup de chose sur lui, si ce n'est qu'il peut se procurer autant d'arme qu'il veut, qu'il n'est pas surpris par une arrivé extraterrestre et qu'il peut monter des opérations commando quand il veut. Bref, ce type est un mystère qui comble pas mal de petite faute de scénario. J'aime bien ce personnage qui est sans doute possible le personnage masculin le plus classe de l'anime.
Jens est une femme-chien (je ne sais pas si Inumimi se dit au japon). Elle est arrivé avant les catiens et déteste les chats. C'est une femme manipulatrice qui ne s'arrêtera devant rien pour atteindre ses objectifs. Elle n'hésite pas en envoyer ses troupes au casse-pipe.
Il y a beaucoup d'autres personnages très intéressants dont je ne peux pas vous parler ici. Certes, rare sont les personnages très profonds mais certains possède un caractère original ou une apparence digne de louange.
Scénario :
Un beau jour, la planète entière reçoit le message universel que voici : Allons jouer ! Et en effet, peu de temps après, Kio Kakazu, un jeune lycéen d'Okinawa voit débarquer Eris au cours d'une réunion de famille. Les choses se compliquent quand celui-ci comprend que la jeune fille vient de l'espace. Les choses sont d'autant plus compliqué que celle-ci est proche de sa saison des amours.
D'un autre côté, les catiens font des procédures officiels et transforme la maison de Kio en ambassade, recrutant par la suite Manami et Aoi. Alors que de magnifiques filles chats découvre ce que la terre a à offrir, des organisations secrètes se décident à intervenir. La relation entre les catients et les terriens en seront-elles bouleversées ?
Enfin, Manami aide Aoi de son mieux pour que celle-ci séduise Kio avant Eris, qui semble bien loin de faire attention aux autres filles. Qui capturera le cœur de Kio ?
Bon, il faut être réaliste : le scénario est assez simpliste. Tout de fois, on y trouve plusieurs aspects très intéressant, comme les astroïdes : sorte de petits robots personnalisés qui suivent un maître en particulier pour le servir de leur mieux. On aborde plusieurs le sujet des serviteurs machines et de leur traitement. On peut aussi soulever le côté shojo de l'anime, qui est très intéressant, même si la conclusion est assez spécial. Autre avantage : le scénario à l'intelligence de se dire que s'il est assez original pour faire débarquer sur terre des nekomimi, il peut se permettre beaucoup d'autre chose. Il est au moins logique sur ce point.
Graphisme :
Le niveau graphique de cet anime est vraiment très bon. Le design des personnages est très bien pensé, tout comme les magnifiques trames de fond. L'animation 3D est très présente, mais elle est bien utilisée et parfaitement intégrée au reste. Le design en lui-même est très coloré, très joyeux, mais il sait également s'adapter pour les scènes de combats. D'ailleurs, celle-ci sont vraiment très bien pensées, même si elles sont peu nombreuses. C'est vraiment un excellent travaille.
L'opening : Now Loading...SKY!! de Sphere, ainsi que les endings : kokoro no madobe Nite de Hanazawa Kana, Omoide ga Jama wo Suru de Tomatsu Haruna et Happy Sunshine de Ito Kanae, sont vraiment très bien pensées. La chanson est toujours très bien pensées et l'animation est à la hauteur. Les choix sont très bons, je n'ai vraiment rien à y redire.
Les OST sont assez discrets, mais ils sont agréables.
Point noir :
On en a déjà pas mal parler, mais les personnages manquent de profondeurs, tout comme le scénario. C'est vraiment dommage, car cette série avait beaucoup de potentiel.
Le plus gros point noir à mon sens est le peu de scène de ecchi. Car cet anime est considéré comme ecchi, mais les quelques scènes de nudités qu'il contient ne sont pas du tout mis en avant. C'est vraiment dommage, cet anime avait tout à y gagner…
Conclusion :
J'ai beaucoup aimé Asobi ni Iku Yo. C'est un anime détente très agréable à regarder qui ne mérite pas toutes ses mauvaises critiques. Je le conseille aux fans de ecchi romancé et soft.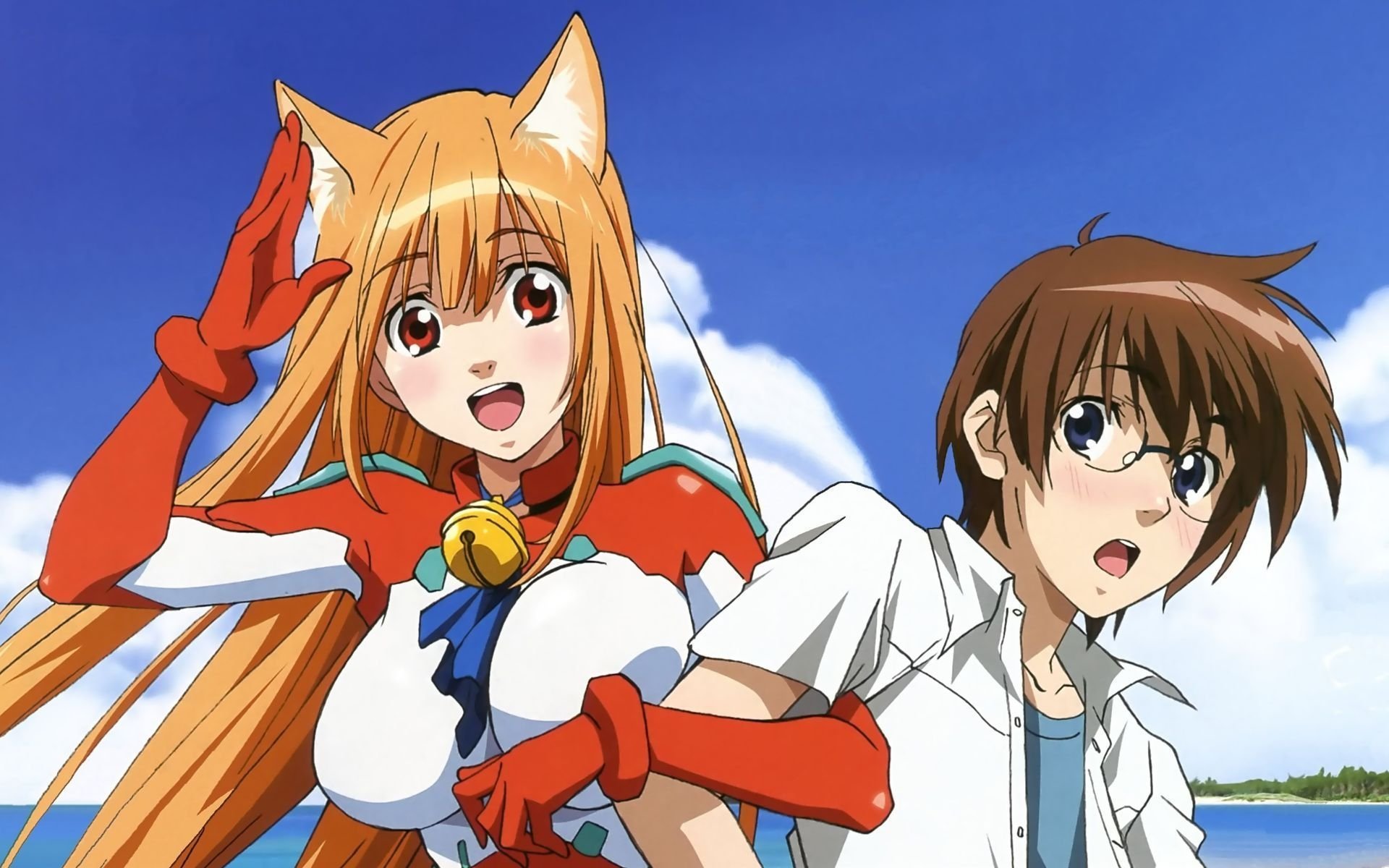 Date de dernière mise à jour : 02/01/2019